VR Bangers is easily one of the best VR porn sites right now! You can have sex with Brandi Love as an escaped convict one minute, then bang Haley Reed in a library the next. The content is truly impressive, not just because there's so much of it to explore, but also because it'll impress with 8K, 60FPS videos in 180 degrees. The site has only gotten better over the years, so if I were you, I'd jump in now and take advantage of all the incredible experiences you can have with these gorgeous pornstars.
My Full VR Bangers Review
Dive Into the Immersive VR Bangers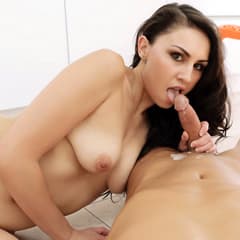 Years ago, when I first started venturing into the world of VR porn, one of the first sites I tried was VR Bangers. Fast-forward to today and it's still one of the most exciting and groundbreaking virtual reality sites online. There are hundreds of experiences waiting to be explored starring 100s of the sexiest pornstars in the biz! I had one hell of a time checking it out again.
Stereoscopic 3D Scenes on PSVR & Vive
I used two devices this time around – my PSVR and HTC Vive Pro. All the videos on VRBangers are compatible with every headset on the market, but they specifically offer a download for the PSVR. Strapping that on, I watched an impressive World Cup-themed video with Kenzie Reeves. It was an Ultra HD 180-degree movie running at 60fps with binaural audio that was crisp and clear. The head-tracking is excellent as I was able to look at my surroundings without the video causing too much latency issues, so there was no VR motion sickness for me. Most scenes are 180°, but I did spot a couple of 360° ones too.
The PSVR isn't exactly built for 6K videos, though, so when I downloaded one, I decided to use my more powerful HTC Vive Pro. All I can say is – wow! The 3D is almost tangible. I felt like I could reach out and touch Piper Peri's tits! The visuals are so detailed and in your face. The FOV (field of view) is also wider on the Vive, so you won't see black if you look too far left or right.
Take Advantage of the Free PLAY'A App
While I prefer downloading VR scenes because the higher quality is more noticeable, here you'll still get a fantastic streaming option. VRBangers has its own app called PLAY'A that's easy to use. I downloaded it for free via the Steam Store, a digital game and app distribution service and then launched it with the Vive. It asked for my login credentials and once I put that in – BAM! I had access to the entire library to stream. With a single click, I was able to enjoy any video I wanted. Streaming seems to only go up to a maximum resolution of 1080p, but I was still impressed at how readily accessible it was and how easy! If you're looking for a way to watch the content instantly, this is your best option!
A Wide Choice of Pornstars Scenes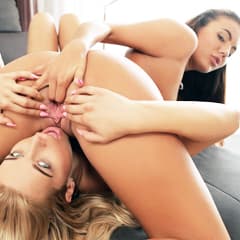 VR Bangers has hundreds of virtual experiences to thrust yourself into, with dozens of them available in 6K! I enjoyed a scene starring Haley Reed, where you secretly fuck in a public library! And it's convincing too. The set is decorated perfectly. Look to your left and right and you'll see shelves of books. At one point, I even caught a librarian peeking through a pile of books and watching us fuck. That was a nice touch. They take that kind of care in all their scenes, by the way! The sets are always decorated, they all have different themes and they always get the hottest babes like Brandi Love, Jade Kush and Lacy Lennon.
It's always nice when a site is aesthetically pleasing, and VR Bangers is. The interface is sleek and the black and pink color scheme looks great whether you're browsing it on their desktop or mobile interface. It was easy for me to find what I wanted to! I used their search engine, sorting options, tags and categories all to my advantage. That's how I found a scene that would end up becoming one of my favorites of all time. It stars Elena Koshka and Jaye Summers in a hot sorority hookup!
Bang Your Way Through Amazing VR Porn
Let me put it this way: If someone comes up to me and asks, "Hey Paul, I'm new to VR porn, which site should I try out first?" I would almost always answer with VR Bangers. This collection consists of true 180° stereoscopic 3D videos in 4K and 6K resolution, with virtual porn experiences that any fan will enjoy. You don't get anything in the way of bonus content, but you'll hardly care because this site keeps getting better.