This site has its ups and downs, like the fact that it has new and exclusive hardcore VR content, but it's user and navigation features are not up to par. You're able to watch these scenes through both streams and downloads for multiple headsets and they all work flawlessly. Still, I really think the webmasters need to up their game and make some much needed improvements.
My Full VR 3000 Review
The Future of VR Porn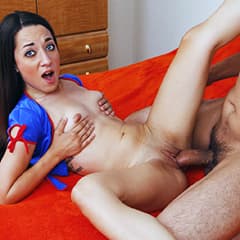 I guess pre-millennium the number 2000 could be affixed to any marketing idea to make it seem advanced or futuristic. But now that the year 2000 has long since come and gone, 3000 is officially the new buzz suffix. There's no other reason for them to use it, since there's definitely not 3,000 videos being hosted on this site – actually, it's only 27 at the moment. There probably hasn't even been 3,000 individual full-length porn scenes shot in VR as a whole. They do offer 5,000 bonus HD scenes, some of which are even in 4K. But you didn't come here for HD and 4K porn, you came here to experience porn in virtual reality. There's just no comparison.
No User Features
There are no user features whatsoever on this site, which I guess is okay since it only has 27 videos, with an average run time of 15 minutes. I noticed that new scenes are uploaded once a week, so it's only a matter of time before they gather a large enough collection to merit some proper usability. There's not even a model index. Once you land on the homepage, you'll see that you're able to browse through five scenes at a time across a total of eight pages.
Come Be Part of the Action
As for the actual videos on the site, they're pretty frickin' hot. And they've got a whole lot going on in them, that's for sure. There's some cuckolding, roleplaying, threesomes, solo, teens, etc. All the good stuff. And not only are all the videos filmed in perfect 3D and with a 180° FOV, but you can both stream and download them on either a mobile device, Oculus, VIVE, or Gear VR.
I Say Go For It!
It's hard to gauge how good of a site this is when stacked up against the rest. It certainly isn't one of the best, as it neither has enough videos to earn that distinction and it's really underdeveloped. As for the videos themselves, however, it's hard to criticize them since they all functioned perfectly, producing a spotless VR effect, and the content was hot and pretty varied for the number of scenes. Ultimately, I'd sign up for this site simply because I love virtual porn and the content is new and exclusive.