The folks behind VR Hush have always given us amazing virtual experiences, with the sexiest pornstars on the planet, so it's no surprise that the trend continues. As the collection grows, it keeps getting better, and several videos are now available to download in 5K. They've even started remastering the older ones! Either way, when you put your headset on and press play, you're going to be impressed with the 180-degree views and the stereoscopic sound coming through your headphones. I used the Oculus Go for this one.
My Full VR Hush Review
Experience VR Porn With Teens & MILFs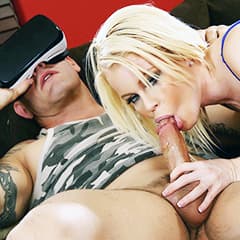 You know you're in for something special when you're checking out a site's tour page and see a large image of Riley Reid bent over and getting fucked while smiling at the camera. Well, that's just one of the many virtual experiences you'll get to have on VR Hush. Over the years, I've always found the site to be reliable. They've still got hot pornstars, lengthy videos and stay up to date on the latest VR porn trends, whether that means adding new headset compatibility or filming in 5K.
Try It Hands-free With the Oculus Go
VRHush offers downloads for pretty much every major headset, including the Oculus, Gear VR and VIVE. Sometimes I like to use wireless headsets so that my hands and other body parts are as free as possible, so I used the Oculus Go this time around. They have a Help section if you're unsure how to get the porn onto your device, but it wasn't that informative as they only give you very generic instructions and recommendations, rather than a step-by-step process, which is easier to understand if you're a newbie.
While streaming has its benefits, like not having to wait for a download to finish, or having it take up precious hard drive space, it also has its limitations like being dependant on your internet speed, which could possibly result in clunky playback. Even if you've got the fastest internet connection, it won't look as clear. Still, it's an option for those of you who want the convenience.
Impressive 5K 180° Videos
If you've got a little more patience, I recommend taking the time to download the videos. With my Oculus Go, I used the built-in browser and logged in to VR Hush. The interface looks clean and whether you're going to be using your headset, smartphone, or PC, it's easy to navigate. (I downloaded a scene with a smoking hot nerdy girl named Isabella Nice.) The scenes are running at 60 frames per second and you get 4K and 5K resolutions for several of the newest ones, so the movements are smooth and fluid. Add in the binaural sound and the wide 180° field of view and both the action on-screen and the sounds coming through my headphones became all-encompassing.
Older Scenes Become New Again
When VR Hush launched a few years ago, the movies didn't look or feel as immersive as they do today. You can hardly blame them, though, because the tech wasn't as advanced. So I think it's impressive that they're remastering a bunch of them. They've taken several fan favorites, changed the view to 180-degree instead of the original 360-degree and re-encoded them in a much higher resolution. Have you ever seen that fantastic VR porn scene with MILF Briana Banks? The one that was part of her big comeback? Well, now it looks better than ever.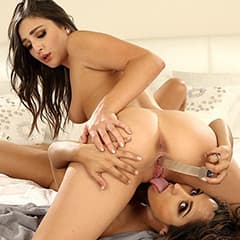 Most of the 200+ videos are POV, so you'll be virtually fucking Nikki Benz, Nina Hartley and others. You can also expect new scenes on a regular basis. There are plenty of teens too, but there's definitely a focus on older women – which is fine with me because I love a good MILF pornstar! I found a few solo scenes too and there's a section with 10 female-POV vids, which isn't something you see every day. There are also 18 standard videos, which is great and all but feel a little out of place on a VR site.
VR Hush – The Gift That Keeps Giving
There's no reason to keep VR Hush a secret from anyone! The biggest names in the industry are ready to get virtually banged in this collection of VR porn that'll leave you feeling enveloped by the quality and the sound. I really couldn't think of any major negatives with this one. Maybe some bonus content would be nice? But hey, who really needs it? And as the site grows, I'm confident the quality is going to keep getting better. They've already proven that by remastering their older scenes and shooting new ones in 5K.