My Full Naughty America VR Review
Naughty America – Leaders in Adult VR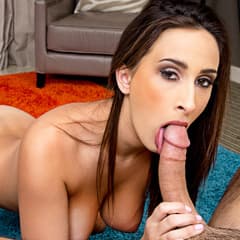 Naughty America is one of the most recognizable names in the industry. Chances are you've watched one of their scenes without even knowing it. They've always starred the hottest pornstars in the biz. So, when they were getting into the VR game, I knew it was going to be good. And I was right! Naughty America VR is an excellent virtual reality site and you won't believe the kind of experiences that await you.
As soon as I logged on, I was at the Naughty America homepage. It turns out my membership includes access to the entire network, which is great, but I didn't immediately see the VR content. You need to click the More tab up top and then head to the All VR section. From there, you'll find hundreds of videos – and long ones too! Seriously, some are over an hour.
Superior Quality on an Oculus Rift
The scenes are compatible with the Oculus, PSVR, Gear VR and cardboard. I decided to use my Oculus Rift as that's the superior headset and was thoroughly impressed with how immersive the entire experience was. These are 4K 180° scenes with a very wide field of view, so there are certainly moments when you'll feel like the girls are actually in your room.
When it comes to compatibility, it would be good if they eventually added some for devices like the HTC Vive or Daydream, just so people who might have those headsets – the former being on the lower end of the price scale – will get to watch videos that match the specifications of their device. The Vive's capability also extends to 6K, so Naughty America could potentially seize that opportunity to produce some really high-quality VR porn.
Should I Download or Stream the Vids?
I generally prefer downloading VR scenes directly onto my headset. These days, most have a built-in web browser, so you can just visit the site, login and download any video. If you're using something like a Gear VR or Cardboard that requires the use of a smartphone, their mobile interface is fully functional and you can quickly download the scenes onto your phone, then pop it into your headset.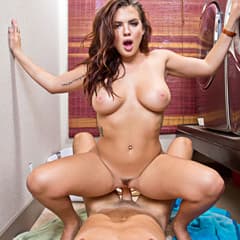 In general, streaming is quicker and while here it still looks impressive, trust me, you're going to want to download, because the video occasionally buffered on my Oculus, but when I downloaded it, at 60fps, the quality really came through and I didn't have to worry about any interruptions.
Also, these scenes are best enjoyed with headphones. Chances are your headset either has them built-in or has a spot where you can plug in your own. Either way, the binaural audio creates a sensation of actually hearing that pornstar whisper in your ear – and you'll know exactly which ear she speaks into. It's like being in your own personal IMAX theater.
Enjoy Virtual Sex With Pornstars
Abella Danger, Adriana Chechik and Reagan Foxx are just some of the babes I was seeing. Did I want to have a threesome, join them in the shower or bang them in the kitchen? Why not do all three? Many of the scenes are based on popular Naughty America series like My Friend's Hot Mom and My Sister's Hot Friend. And if you want to learn more about the girls, you can read their bios from the tour page.
VR Reality Porn Done Right
It's no surprise that Naughty America is producing fantastic virtual reality porn. Whether you're a newbie or a veteran of VR, you're going to love this site. Using your preferred headset, you get to transport yourself into stunning virtual environments with equally stunning pornstars. They also take the time to listen to their fans. Every scene I checked out had tons of ratings and comments. Some of them even had responses from the webmasters.