Anyone who joins Wankz VR is going to love it, whether a VR porn newbie or veteran. You've got your adult viewing cut out for you, with hundreds of 4K 180-degree videos starring some of the hottest pornstars like Lacy Lennon and Ella Knox. It's also very easy to stream them without having to sacrifice quality, but if you prefer to download, you can do that too. There are no bonuses, but you're not going to care because all the scenes have high replay value!
My Full Wankz VR Review
Welcome to Wankz VR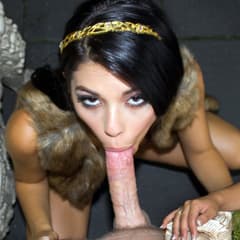 Do you know what I love about VR porn? How it keeps getting better. Years ago, when I checked out Wankz VR, I was impressed with what I saw and I remember thinking that it doesn't get any better than this. Well, I couldn't have been more wrong! Just like a lot of VR websites, this one continues to improve and offers some incredible virtual experiences.
4K Videos on the Oculus Quest
The Oculus Quest didn't even exist the last time I went to WankzVR, so this time, I used it to explore everything the site has to offer. They've got downloads available for every headset, so if you're using something else, you're good to go. I knew exactly what I wanted to watch as soon as I looked over their hue collection of scenes – a threesome with Kali Roses and Maya Bijou! It's an Ultra HD 180-degree movie running at 60fps with binaural audio that's crisp and clear and precisely what you can expect from the majority of the videos.
When it comes to VR, I almost always prefer to download. Streaming can be unreliable at times and doesn't always look as sharp. But you know what? That's not the case on Wankz VR, which offers two ways to stream. The first option is to head to your device's browser and go to the site that way. Most headsets have browsers built-in and if they don't, you can easily find a free one. The other option is to download an app called Deo VR – also free. I was prompted to put in the sitename, log in and voila! Just like that, I had the entire library in front of me, ready to play instantly.
Try Their Interactive Scenes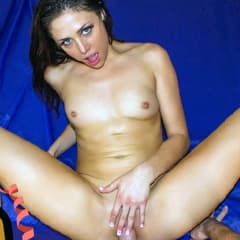 As you browse you'll see close to 200 videos labeled Interactive. This means they're compatible with a smart sex toy called FeelMe. So not only do these 3D scenes look real but now they'll feel real too! You better believe I quickly placed an order for one! It's straightforward to connect (they have a Help page if you can't figure it out) and once I did, I completely lost myself as Uma Jolie gave me the best virtual blowjob of my life!
Virtually Fuck the Hottest Pornstars
Speaking of the girls, Wankz VR had so many hot babes for me to choose from. I could head outdoors and fuck Gabbie Carter, have a threesome with Lacy Lennon and Athena Farris, or give Ella Knox a creampie. And these 300+ aren't short videos either. The average is 45 minutes. I even saw some that were 70 minutes! By the way, did you know that Haley Reed's first VR scene was shot here? I found that out in the model index, where all the girls have bios.
Seamless Browsing Experience
Another thing they got right is the interface. It just looks good and is easy to browse, whether you're on the desktop or mobile version. I know some of you couldn't care less about design, but I appreciate it when a site is not only easy to navigate but also easy on the eyes. I can look at any thumbnail and get a clear idea of what's in store. I was able to conveniently save my favorites, give a thumbs up or down rating and post comments. If you're new to VR and a little unsure how to get porn onto your headset, there's a forum where you can reach out to the webmasters and even other users for help.
You'll Want to Visit WankzVR Often
With all the fantastic options for VR porn sites online, I find it hard to recommend just one, but I would still easily place Wankz VR in my top 5. There are just so many incredible experiences to dive into as well as tons of hot babes, phenomenal videos and a collection that keeps growing. You don't get any bonuses, but you know what? I never felt like I needed them. Considering how long some of the scenes are, I found myself re-watching them over and over again, and you'll probably do the same.