Lethal Hardcore VR is where you'll get to virtually fuck pornstars in reality scenes, as well as some Warcraft-themed ones. There's a solid collection of 4K videos that feel immersive, have binaural audio, all in 180 degrees and compatible with popular headsets like the Oculus Rift and PSVR. You'll have to stick to downloading the scenes – unless you want streams in 2D. You'll have to be patient, though, because download times can be excessively long.
My Full Lethal Hardcore VR Review
Get a Lethal Dose of VR Porn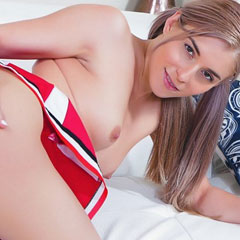 You might already know the name Lethal Hardcore from their standard 2D site with hundreds of HQ videos. Now they're dipping their metaphorical toes into the world of virtual reality and giving us Lethal Hardcore VR. The word "lethal" fits, too, because you'll see a few chicks brandishing swords and armor, ready to fight to the death (no, seriously, they do). But first they get naked and fuck you, of course.
Watch UHD Scenes on an Oculus Rift
When it comes to headset compatibility, you're covered with the Oculus Rift (which is what I used for this review), HTC Vive, PSVR and any phone-powered headset, like the Gear VR. There's no specific compatibility for the Oculus Go or Quest, but any downloads marked for the Oculus should work fine.
The videos download in 4K files at 30fps. What's great about that is generally, every headset has the capability to play an Ultra HD video, including the non-expensive devices. A 5K or higher video would require more processing power. If you're using a phone-powered device, like a Gear VR, the quality drops down to Full HD. Regardless, the videos feel immersive and I had no issue disconnecting from the outside world to enjoy these scenes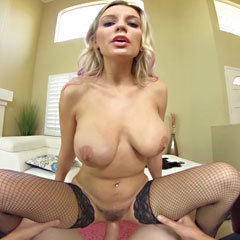 Some Streaming & Download Challenges
I visited the site through my headset's browser and also with the free app Deo VR because I wanted to see what the streaming experience would be like. Unfortunately, it only played in 2D. I swapped out my Rift for a Gear VR to make sure the problem wasn't with my headset, but the same thing kept happening.
I won't get too technical, but making a VR video requires many steps, even after filming ends, and the process is different for the streams and downloads. I imagine they decided to put all their efforts toward making a better downloadable video. Fair enough, but in 2020, a lot of people are streaming VR porn, so they need to give the people what they want.
My initial thought after my lackluster streaming experience was that it was no big deal because I could just download, right? I was then presented with another roadblock. First, the downloads are incredibly slow. I again double-checked to make sure the problem wasn't on my end. The big files don't help, either, and are anywhere from 8GB to 14GB. But once I finally downloaded one, it ran smoothly and I never experienced any buffering.
Enjoy Reality and Fantasy-Themed Porn
As soon as you log in, you land on the Latest Experiences page. The VR Experiences tab will let you see the rest of the collection, consisting of 130+ videos. I think calling them "experiences" makes sense because there are essentially two types of scenes here – your standard hardcore ones, usually with a taboo theme, and fantasy porn with girls dressed as characters from the Warcraft video game universe. These are actually scenes from their other site, Whorecraft VR and If you were to visit that site, you'd get all the scenes from LethalHardcoreVR as well.
Virtually Fuck the Sexiest Pornstars
In one scene, Abella Danger plays a blood elf with a mana addiction. She enters your home to steal mana from your body and there's only one way to do it – suck it out of you! I'll let you guess which part of your body she has to suck it out from. In another scene, I played Tiffany Watson's probation officer and when I catch her in violation of it, she offers to fuck me in exchange for keeping it a secret. Throughout all these videos, you'll see pornstars like Lauren Phillips, Alexis Monroe, Jade Kush and more.
Still a Decent Virtual Porn Site
Lethal Hardcore VR has a pretty eclectic collection of porn. They definitely keeps things interesting, whether it's the taboo stuff or having virtual sex with a pornstar in armor, and there was enough happening in each scene that I enjoyed myself. Just expect a few hurdles. I would skip the streams completely – what's the point if it's not even a true VR video? Stick to the downloads – just be patient while you wait for them to finish.