It's still pretty rare to find VR sites with experiences for women, so when Virtual Real Passion came along, it was worth taking note. Although the videos are shot from a woman's perspective, I'd argue men will find something to enjoy, too. The production values are high, with 5K videos starring men in hardcore videos, other women in lesbian scenes and threesomes. Sure, the collection may not be very big, but it is growing (slowly) and a monthly membership is affordable.
My Full Virtual Real Passion Review
Feel the Love on Virtual Real Passion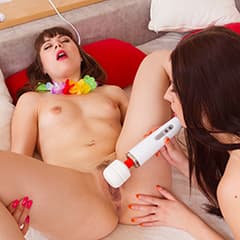 It's crazy to me that there's still the occasional perception that women don't watch porn. That couldn't be further from the truth. And more porn sites are starting to take notice. It's taken a while for VR porn to follow along, but here's one site that finally has – Virtual Real Passion. What makes this site so unique is that it features VR scenes from a woman's perspective.
Exclusively Female VR Porn
Given that this is a female POV experience, most of the roughly 50 total scenes have you in the role of being fucked by a guy. They got some hot, muscular-looking men for the scenes. But, according to a University of Essex study done in 2015, all women are at least a little bit bisexual. Who knows how accurate that is, but I can tell you that you'll find a good variety of lesbian scenes here too. And finally, there are quite a few threesomes too. They appear to be mostly FFM.
Man, I Feel Like a Woman!
Now, I know what you're thinking. What if you're a guy, right? I'll admit that, as a straight man, looking down at my virtual body and seeing tits and a pussy was a little weird, and it was a strange experience watching another man thrusting into me. But then I switched over to the lesbian scenes and as bizarre as it may be as a man to take on a female's perspective, I enjoyed all the pussy-eating, finger fucking and threesome action I was a part of.
Explore 5K VR From a Woman's POV
I wasted no time grabbing my Oculus Quest. The entire collection is available to download 5K, so I wanted to use something strong enough to power them. Plus, I generally prefer a wireless headset since you have the freedom to move around a little more, and that comes in handy here because you'll see that the videos give you recommended sitting positions. A tetherless headset just makes it easier to switch places.
Whatever device you own, you won't have to worry because they have suitable downloads for all headsets. They even have downloads for the Oculus Quest 2. Seeing as it's one of the newer devices around, it's nice to see that they've already added compatibility for it.
A Smooth Streaming Experience
Streaming was great too. I experienced no lag whatsoever. The streams only go up to 4K. Still, the differences between 4K and the downloaded 5K videos are so subtle, you'll hardly notice a difference unless you have Superman-level vision. I generally like to use an app like Deo VR for streaming, but it wouldn't let me past the site's sign-in page. This was likely an issue with DeoVR rather than the site itself, so I just used the device's browser and it was fine.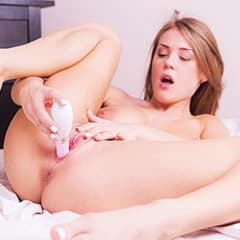 Check Out Flawless Virtual Porn Scenes
You're getting a fantastic virtual experience with VirtualRealPassion. The videos are running at 60fps, with 180-degree views and surround sound, so these videos are best enjoyed with some headphones. The videos are flawless in that head tracking was always on point and VR latency was minimal, so even newbies should be able to enjoy these scenes without getting a headache (which occasionally can happen if you're new to virtual reality).
Right now, 10 videos are compatible with smart sex toys. Companies like Kiiroo and Lovense have various toys for women and men that work with Bluetooth to vibrate in unison with a video you're watching. The Pearl 2 from Kiiroo, in particular, is one that the site advertises and recommends you use for the scenes here.
Consult Their VR Help Guide
It's not uncommon for VR sites to offer help guides. After all, it's not a stretch to think that there are still a lot of newcomers. But I've seen a lot of sites with outdated guides. Thankfully that's not the case here. Virtual Real Passion has one of the better guides I've seen. It has detailed instructions, with screenshots, for most devices. The only devices they don't cover are the HTC Cosmos and Valve Index, but they're coming soon.
The Best VR Porn Site For Women
With amazingly hot scenes and technically flawless VR, plus integration with smart sex toys, I don't know how any woman could turn down this experience. Membership is affordable at only $10/month. It may not be as big of a collection as you'd see on other VR sites, but that price is a steal. The content isn't dated, but if you head over to their blog, they post updates about their new scenes and it appears as if, at least for now, they're adding one or two new scenes per month.