Virtual Real Porn was always a ground-breaking VR porn site and nothing about that has changed. With an impressive collection of high-quality 3D videos, including many compatible with smart sex toys and some that let you make the decisions, there are plenty of scenes you'll be revisiting. No matter how you watch the scenes, you'll get to experience Russian and American babes giving you blowjobs, having threesomes, anal sex and more, all in stunning virtual reality.
My Full Virtual Real Porn Review
Want a Virtual Real Porn Experience?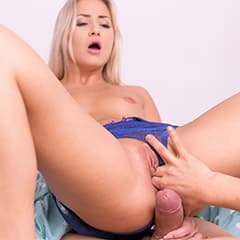 If you've been following me for a while, then you already know that I love Virtual Real Porn. So I think it's about time I give it another review. As suspected, there have been some positive developments and a lot of what made it so great the first time around is still very much present.
Since my last review, Virtual Real Porn has amassed over 600 videos. Compared to other top sites, this is one of the bigger collections I've seen. From holiday-themed videos like Valentine's Day sex with your girlfriend to threesomes with your wife and best friend, there's just no shortage of diverse content to explore. Even though I don't see any dates, considering the site's grown, they're obviously still updating. As for the girls, they're mostly Russian and occasionally, an American pornstar like Abella Danger makes an appearance.
My Device of Choice: The Oculus Quest
Selecting the right download for your headset is a little easier than before. You used to have to go into the settings first and choose your Owned Devices. Now, they display all the compatible downloads for each scene, so all I had to do was pick mine. I decided to use my Oculus Quest again since I had a great experience with it the last time. I also have to give them props for adding downloads for the Quest 2! It's still pretty new and VirtualRealPorn is one of the only sites I've seen to add compatibility for this headset so quickly.
If you have a PSVR, there's now a much easier way to watch porn on it. There's a new app called WatchVR, and what's crazy is that I hadn't seen it advertised anywhere until re-visiting Virtual Real Porn. The way it works is that instead of having to go through an annoying sideloading process, you can simply use this free app to stream the collection more easily.
Enjoy Smooth VR Streaming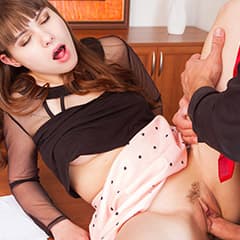 In general, I found an improvement with streaming. I encountered some lag last time, but that seems to be a thing of the past. No lagging, no buffering, just clean playback. I had to use the browser on my Quest because the Deo VR app, which I like to use, wouldn't let me past the login page. I just kept getting a message that said "accessing Virtual Real Porn," but it never let me enter my credentials. To be fair, this might have been a bug on DeoVR's side and not the fault of the site's, but I did want to let my readers know.
Immersive Yourself in 100s of 5K Videos
I counted over 300 videos with a 5K resolution of 5120×2880. I wasted no time downloading a few onto my Quest. Quality-wise, these 180-degree scenes gave me everything I could ask for. The movements were fluid and running at 60 to 90 frames per second. Latency was never an issue, as head tracking remained smooth throughout. At one point, I was in a bathtub with a brunette as she fingered herself and then she came over to suck my cock. With stereoscopic sound, the splashes of the water and her moans were as clear as day.
Go Further With Interactive Videos
Many VR porn sites have started to add interactive scenes and ones compatible with smart sex toys, but Virtual Real Porn was one of the first to do it. They only had a few back then, but now they have about 70! For the interactive ones, at random points, choices will pop-up like "blowjob or titjob" or "cum on tits or cum in mouth," and you decide how you want things to progress. You'll get to experiment with multiple outcomes. However, you will need to download their free app VirtualRealPlayer available on Google Play and the Apple store. Obviously, this also means that you'll need to be using a smartphone-powered headset like the Gear VR if you want to experience them.
Then you've got the scenes compatible with smart sex toys like a Lovense or Kiiroo. What's great is that both are affordable these days and if you're looking for a way to enhance your VR experience, I recommend investing in one. If you don't know how they work, they vibrate in unison, via Bluetooth, with the women's movements on screen, so you can imagine how that feels while wearing one of these Fleshlights.
When in Doubt, Consult the Help Guide
If you encounter any issues or just need a little guidance setting up your devices (headset, apps, smart sex toys, etc.), head over to their Help guide. It's up to date and covers all the relevant topics and provides step-by-step instructions that are easy to follow. There are screenshots included too, which makes it even easier.
Virtual Real Porn is Still Top-Notch
No surprise here, but I still love Virtual Real Porn as much (more, even) today than I did when I first discovered it a few years ago. There are a few other sites under their umbrella, like Virtual Real Passion and Virtual Real Japan, and even though they aren't included as bonuses, it didn't feel like a big deal to me because there's just so much here already. Whether you're a newcomer to the world of virtual porn or a seasoned pro (like myself), this is one site you need to add to your repertoire.