My Full VR Latina Review
Got Latina Fever?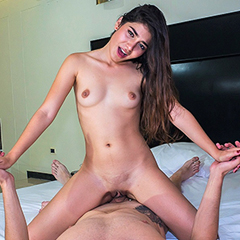 Are you into Latinas? Have you ever wanted to give a beautiful young Spanish-speaking woman a little bit of your burrito with extra sauce, if you know what I mean? This excellent site features the sexiest Latinas in hardcore 180° 3D virtual scenes so that you can get up close and personal with them. You know the type, brunettes and noirettes and even a few dirty blondes thrown into the mix, all with perfect sun-kissed complexions, deep, soulful brown eyes and flirtatiously incendiary smiles that are likely to spark a fire in your crotch with a mere glance. And that's not to overlook the essential fact that they're all stacked, with big tits, big hips and big bootylicious asses.
4K VR Porn
The scenes are mostly shot POV so that you can get in on the virtual action, but there are also a few voyeur scenes. There's more than a couple dozen videos by now, which is pretty good and they're sticking to a weekly update schedule. Every VRLatina scene can be downloaded on every major headset, with specifically formatted files available for each device. Each scene is shot in 4K 180° 3D with head tracking and binaural audio. And while the site has not made their videos streaming-friendly, you are able to stream the trailer for each.
Use the Model Index to Find Your Favorites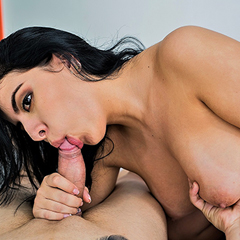 If you're anything like me, you're probably curious as to whether or not the site has a model index so that you can familiarize yourself with the all these pretty Latin models. Well, the good news is that they do, but the bad news is that the profiles yield very little personal information. You get a photo, an approximate height, a little two-line blurb and direct links to all their scenes. In all honestly, I would only use the index as alternate way to find a favorite girl, since the user features are minimal and don't enable you to save your favorites, rate the scenes or post comments.
Check Out Their Help Tab
There are, however, a few features that VRLatina has that makes navigating their sexy site convenient. For starters, you're given two general sorting options: top rated and newest. There's also a basic search and a ton of tags that can help bring up all the other scenes with the same kind of virtual action. There's also a convenient help page, complete with step-by-step guides on how to play the scenes on the Oculus, VIVE, PSVR, GearVR and Cardboard viewers.
Visit VR Latina Today
And there you have it, folks! A virtual reality site featuring only super sexy Latin babes and you get to have immersive sex with each and every one of them as much as you'd like! In fact, if I were you, I'd hop on over to VR Latina right away and start scoping out their free trailers that you can stream straight to your headset. They're also on-point when it comes to their social media game. You can find them on Facebook, Twitter, Google+ and Instagram where they post about all their recent and upcoming scenes.