My Full Wet VR Review
Creampie Porn Up Close & Personal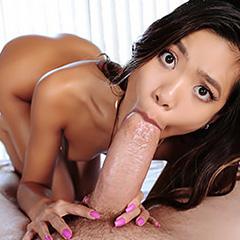 I like the word "wet" because in porn it could mean anything! Does it refer to hot girls skinny dipping? Are they covering themselves in lube and getting fucked? Is it WAM play? Or maybe they're getting creampies. Well, that last one is my favorite, so I'm here to tell you that Wet VR fulfilled all my creampie fantasies by letting me virtually cum either inside or on pornstars like Gabbie Carter, Gianna Dior and Vina Sky.
Get Wet With Your Oculus Rift
Realism is going to be key on a site like WetVR. After all, you want it to feel like you're actually cumming inside these girls, right? I had no problem putting myself in that frame of mind when I experienced these POV videos. I downloaded one to my Oculus Rift and took in the 180° views and I swear, it felt like I could get up and actually walk around the room.
But of course, my attention was on the sexy teen in front of me, and thanks to the 5K quality, 60fps and wide field of view, I was able to see her as clearly as possible. At one point, she walked around me and the surround sound made her voice travel with her wherever she went. All this goes a long way in creating a virtual experience that's smooth and fluid. The only thing that would make it feel even more real is if the scenes were compatible with smart sex toys. A lot of VR porn sites are starting to add it. Maybe Wet VR will in the future, but even without it, they still nail it.
Immersive Experiences on Any Headset
They currently provide downloads for the Oculus Rift, Vive, Gear VR, cardboard and PSVR for all 30+ scenes. But the 5K videos are only compatible with the Oculus and Vive and those headsets are expensive. If you already have one, great! If not, you don't need to miss out. I was still impressed by the 4K versions, which look great on a Gear VR or PSVR.
If you choose to stream the videos, they go up to 4K, but you may encounter buffering issues if you're using a less powerful device. You can stream them through your headset's built-in browser (most of them have one nowadays) or by downloading DeoVR – a free app that lets you instantly stream any scene right to your device! All you have to do is download the app, launch it, make sure your headset is connected and bam – you're good to go!
Virtually Cum Inside Hot Teens
Teens and creampies go together like peanut butter and jelly. Well, here they put effort into giving you variety, from a stepsister who likes watching you jerk off to a brunette hottie who catches you spying on her while she bathes – but it secretly turns her on! I even saw a scene that focused on a babe's smooth feet.
And that's when the fun begins! You'll get to virtually fuck these babes in different positions and then not even have to think about pulling out (like in real life). Condoms are nowhere in sight! And while the word "wet" implies semen, you should see the way these girls slobber, spit and suck on your cock! WetVR was definitely going for a certain aesthetic with the models. Aside from them all being college-age, they have pretty much the same body type: slim with small tits, though some have bigger boobs and butts.
Wet VR Does Creampie Porn Right
Wet VR's virtual reality porn movies will blow you out of the water. Everything looks smooth, even if you're using a lower-end device like a Gear VR or cardboard, but especially if you're lucky enough to have a high-end device like an Oculus Rift. This makes it all the more disappointing that the collection is small, updates are a bit slow and you don't get any bonuses. But hey, you know what? I found myself rewatching everything multiple times, so at the end of the day, I think you should still give this site a shot, especially if you're a fan of the VR creampie niche.