VR Conk blew my mind with their 6K videos. I knew using my Oculus Go was the right call because it's a wireless headset and I was able to move freely from a standing position for a blowjob to a sitting position for missionary sex. They had a download specifically for my device, and if you're using something else, they cover all of them except the HTC Vive. Even on the Go, which isn't as powerful as other headsets, I was still impressed with how it looked. On that note, downloading is the route you'll want to take as the streaming was laggy. Either way, you'll have a good time with these hot scenes starring even hotter pornstars!
My Full VR Conk Review
What is VR Conk?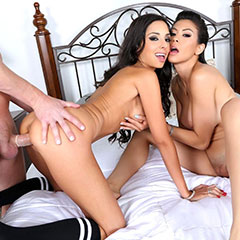 Doesn't the word "conk" make you think of a sound effect? Like a cartoon where the character gets bopped on the head and you'd see that word go across your screen. Well, VR Conk is something way better than that. This is a site that's about to let you virtually fuck hot pornstars in a variety of 3D environments, from a normal location like an apartment to a church to bang a naughty nun!
Enjoy 6K Videos on the Oculus Go
I knew I was in for a good time just browsing the thumbnails. I could virtually go to the gym with Vina Sky and fuck her after a workout, or enjoy some Suckflix and chill with Sara Kay. I wanted to use a lightweight, wireless headset to make sure I constrained by wires, so I went with my Oculus Go this time. Plus, if a scene calls for you to switch positions, it's much easier to do it with a wireless headset. On that note, it would have been nice for some of these scenes to give you recommended positions.
I had about 60+ scenes to choose from. Okay, not the most significant collection I've ever seen, but I was more interested in how everything would look and feel. On that front, you're in for some top-notch VR porn. Shot in 6K, these movies are running between 60 and 90fps, giving them a smooth look like you can reach out and touch things. Exactly what you want with your virtual porn.
Minimal Latency = No VR Sickness
With my Oculus Go, I spent some time looking around my 180-degree surroundings. The head tracking was on point with minimal latency, meaning even VR newbies should be able to enjoy the site without worrying about motion sickness. The FOV (field of view) is wide and with stereoscopic sound, it's like the girls were in the room with me. The only thing that would take these videos to the next level would be introducing smart sex toys, but they haven't done that yet. Even without it, I found it easy to get into the flow and lose myself.
Compatible With (Almost) Every Headset
Since I was using my Go, I downloaded the file formatted for that headset. But if you have something else, like an Oculus Rift or a PSVR, they've got downloads for those too. The quality is going to look best on a higher-end device like the Rift, but it's expensive and not everyone can afford it. But don't worry, you're still covered with downloads for more economical devices, like the one I used or the Gear VR – they just might not look as sharp. On that note, I noticed they don't have a download for the HTC Vive, which surprised me. If you happen to own one and want to experience VR Conk's content, download the Oculus Rift version. It's the one that closely matches the specifications of a Vive.
Streaming Could Be Better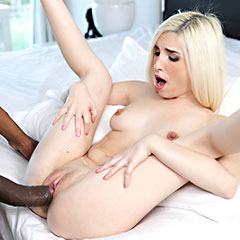 I've always said that downloading VR porn is the way to go because streaming can be clunky, but I'm slowly coming around as lots of sites have started dealing with those lag issues and offering experiences that look almost as good as downloading does. Unfortunately, VR Conk needs some improvement in this area. I tried streaming via my headset's built-in browser, but the buffering made the scene unwatchable. Just as a hot brunette was about to take her top off and suck me off, my video froze. A total boner killer! It was less of an issue when I used the free Deo VR app. There were still some moments of buffering, but it happened much less. The app also lets you play around with different features, like adjusting the head tracking speed, contrast and brightness.
Download for the Best VR Experience
It's cool to see how VRConk has grown over the years. I remember when they promised to start shooting in 5K back in Sept. 2018. That could've been an empty promise, but it wasn't. In fact, they went a step above and started shooting in 6K! I do wish they'd update a little quicker (you only get about one new scene every 10 to 15 days right now) especially since you don't get any bonus content, but I can confidently say that I don't mind re-watching these videos. They're that good.