If you're like me, you've watched your fair share of VR porn and are always on the lookout for something new on the market. With SLR Originals, you can immerse yourself in sexy solo scenes, lusty lesbian lovers, pervy public pickups and so much more. Use the DeoVR media app for a streamlined playback experience in up to 6K quality. Grab your Oculus Quest 2 and choose from over 100 original scenes by powerhouse producers that will get you up close and personal with your favorite it-girls today.
My Full SLR Originals Review
Enjoy Sex Like Real's Original Scenes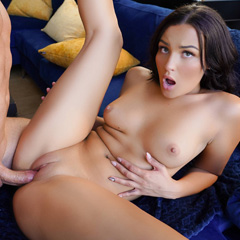 The popularity of VR porn has slowly but surely gained traction and when it comes to finding the latest scenes for your virtual love affair, it can be hard to know where to start. On the other hand, maybe you've been watching for a while and need something to shake things up a little bit. I don't blame you! I'm always on the lookout for VR porn and I love the idea of content that's shot exclusively – it makes me feel special, as if I'm getting a VIP experience. And I believe you'll find something new too on SLR Originals.
Bang Beautiful Babes in 6K VR Videos
For most traditional 2D porn, scenes in 4K quality are perfect, but for VR, you'll need something a little more substantial to benefit from a truly immersive experience. The coolest part about SLR Originals is that their recent scenes are shot in 6K quality so they're compatible with even the most powerful VR headsets on the market currently like the Oculus Quest 2. Strangely, I don't see any mention of the Valve Index, which surprises me considering it's one of the most popular HMDs for PCVR users. HTC's Vive is listed luckily, and the scenes are capable of running at 60fps regardless of which headset you're wearing.
Pick the Best VR Headset For You
For newer VR users, remember that if you're using PSVR or a phone-powered device like Google Cardboard or Samsung Gear (both of which are now discontinued), you'll only be able to enjoy the content in 4K due to their less powerful processors. What'll make those experiences better for you though is downloading the free media player app DeoVR, which is the suggested player for SLR Originals' scenes. You can also opt to use a different app like SkyboxVR or PLAY'A, but the site does suggest that DeoVR will work the best.
Speaking of headsets, as someone who was once new to virtual reality (many moons ago), I find it important for a VR porn site to provide an in-depth guide or tutorial for users. SLR Originals does offer a guide under the Help tab, but it's pretty outdated considering how much VR has changed in the last two years alone. What I did appreciate is how detailed the guide is for the headsets that are listed, but if a site is advertising scenes in 6K that are compatible with powerful devices, it's a major oversight, in my opinion, not to include a tutorial for the Oculus Quest and Quest 2, which are the major standalone headsets right now.
What's Up With the User Interface?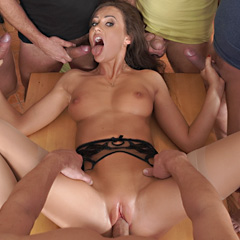 When I'm visiting a site for the first time, I pay special attention to the overall user experience because it can really be a deciding factor of what makes or breaks a site. And while I wanted SLR Originals to have a streamlined interface, I found it lacking in a few respects. First, there are no advanced search options. You can be directed to the Videos, Categories, or Pornstars pages, but that's where things end and you'll have to do a lot of manual work to find the scene you want.
Over the span of a few days, I experienced UI/UX issues randomly and with different functions on different pages. For example, the model index is broken and although you can sort the girls by Most Recent or Alphabetical, clicking on either produces the same results. When I first checked out the site, the carousel banner links were leading to 404 errors instead of the scenes themselves, then randomly, three of the four banners were working while one remained inactive. I tested it out on a couple of browsers and experienced the same bugs.
Watch My Favorite SLR Originals Scene
Considering I have a soft spot for pretty blondes with natural breasts, I was happy to find several scenes starring Melody Marks, who I've seen members dub the new Queen of VR. There's something special about her perfect blend of innocence and sex appeal that keeps me interested. In my favorite scene "Making It Up To You," Melody is your roommate. She's struggling to pay her rent so picks up a side hustle at the massage parlor where you just so happen to visit on the regular – and she gives you the happiest of happy endings.
Test Out SLR Originals Today
Overall, SLR Originals is making a name for itself. Exclusive content is rare considering how much shared and licensed content is floating around in the porn metaverse. Since it is a newer site with about 150 scenes, memberships start at only $19.99 monthly and go up to $399.99 for a lifetime subscription. If you're interested in trying things out a little bit before committing though (which I suggest), you can stream short 2-minute trailers for free. Once the site gets the UI bugs sorted out, I can only expect them to offer even higher-quality scenes as their original content grows.