Fucking your stepmom or stepsister might not be possible in real life, but it definitely is on Virtual Taboo. Dive into a fantastic collection of VR porn, all with a stepfamily theme. These are some impressive, mostly 5K 180-degree videos, running at 60fps so they look as smooth as possible. They do a great job of mixing up the action and including both pornstars and fresh faces. Streaming is possible, though not it's not as seamless as it is on other sites. Still, it didn't stop me from enjoying these scenes, which are compatible with most headsets on the market.
My Full Virtual Taboo Review
Explore Your Taboo Fantasies in VR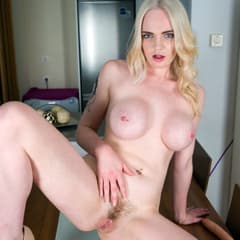 I have to say, I love the thrill of watching stepfamily porn. There's just something kinky about wanting to fuck your hot stepmom, isn't there? So when I stumbled onto a VR site that focused solely on taboo porn, I knew I had to check it out. Virtual Taboo is here to satisfy all of my (and yours) stepfamily fantasies!
I had a tough time deciding where to start, just because there's so much and it all looks so good! Did I want to tittyfuck my redhead stepsister, Alex Harper? Go on a sexual vacation with my blonde stepmom, Georgie Lyall? Or maybe play the role of stepdad, giving my two sexy stepdaughters a spanking? And that's just scratching the surface – there are hundreds more taboo scenarios. They also have a good mix of pornstars and amateurs. For those of you who have complained about seeing the same girls on all VR sites, this is your chance to see some fresh faces. Too bad the model index doesn't give you any bios.
Enjoy 5K Videos on an Oculus Go
With my Oculus Go in hand (or on my head, rather), I was ready to start. I had hoped there would maybe be an app for streaming, but no. There are third-party apps, like Deo VR, that you can use, but they didn't work that well here. No big deal. I just logged in through the built-in Oculus browser and streamed the videos from there. They only went as high as 1440p so I decided to download a few to check out the difference.
Streaming might be quicker, but trust me, you're going to want to download. These incredible 5K 180-degree videos were so clear, I felt myself reaching out, thinking I could conjure boobs. They run at 60fps, so they looked incredibly smooth and clear. And with the binaural audio, you're going to hear everything. In fact, they play with that a lot. At one point, a babe was whispering in my left ear and it sounded so real, I got chills down my spine.
Compatible With Most Headsets
Every time I check out Virtual Taboo, they have new content. It's not as tricky as it once was to mass-produce VR porn, but it still takes time and effort. So the fact that they keep growing and adding new scenes is great. The only thing I'd like to see them do is to add compatibility for more headsets. Right now, you can use an Oculus device like the Quest or Go as well as the PSVR, Gear VR and cardboard. As for other devices like the Vive and Daydream, sure, you watch the scenes on them, but they won't look as good because the site doesn't provide specific specifications for them.
Find What You Want Easily
I really liked the user interface. They've got a basic search engine, tons of tags and some sorting options, whether you're browsing the site on a desktop or mobile interface. Go ahead and save your favorites and maybe even leave a comment and a rating to show the webmasters your appreciation. I know for a fact that they listen to feedback because they often respond to users' comments.
VR Stepfamily Porn Done Right
Some of you probably have stepmoms and stepsisters in real-life, but maybe they aren't exactly the type you'd want to get freaky with. Well, Virtual Taboo is here to let you play out that taboo fantasy with their fantastic and continuously growing collection of 5K VR porn, with smoking hot pornstars and a few fresh faces too. I'd like to see them add a more seamless streaming option eventually, one that displays in a resolution higher than 1440p. But otherwise, there's no reason to miss out on this one.