Czech VR is not going to steer you wrong if you're looking for a site that blends the worlds of virtual reality and Czech porn in a beautiful way. The girls are sexy and the quality of the videos, which go up to 5K and between 60fps and 90fps whether you're streaming or downloading, will go a long way in making you feel like you're actually in the room with them. The collection is not only big, but updates are consistent and you get bonus sites with more VR porn! And if you think you're going to miss out on the highest quality possible because you don't have an expensive headset, you'd be wrong. There are 5K downloads for all of them to ensure you're getting the best viewing experience possible.
My Full Czech VR Review
Teleport to CzechVR With an Oculus Go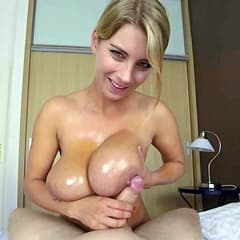 I don't know what's in the water in the Czech Republic, but the girls there are some of the wildest and horniest babes on the planet. Any time I watch Czech porn, it makes me want to hop on a plane and go. Now, if I did that every time, I'd be broke! Luckily, the next best thing is a site like Czech VR, where I can virtually transport myself into the living room of a blonde teen and watch her give me a blowjob.
Dedicated Download and Stream Servers
I have to give kudos to CzechVR for doing something I've never seen on any other VR porn site – offering three different servers for streaming and downloading based on your location. You can choose from Asia, Europe and the U.S., and within a few minutes, you'll have a scene downloaded directly to your headset.
I ran into a few streaming hiccups along the way. They have something called VR Hub – their theater mode basically – that lets you stream directly on your headset and browse the collection that way, but it didn't work. So I figured the next step was to try streaming with an app like Deo VR. They even have direct links on the site that open the app and play the scenes. But guess what? All you get are trailers. Even if you're logged in to the members' area via Deo VR, you'll only get previews. Ultimately, the only way to stream is by visiting the site via your headset's browser, but even then, you might encounter latency issues, so it's best to download.
Immersive 5K VR Porn Scenes
Czech VR has two things going for it – hot Czech girls and phenomenal virtual reality porn scenes. I was very impressed with the quality of these 300+ videos, most of which offer the following:
5K resolution
Stereoscopic sound
A wide field of view
Videos running at 60fps to 90fps
Compatible with teledildonics
Maybe those stats sound a little boring, but let me tell you why they're so important. Think of it like the magic formula that makes virtual reality porn feel as immersive as possible. When I strapped on my Oculus Go, I teleported into a bedroom with two beautiful Czech MILFs. One was stroking my cock while the other whispered dirty things in my ear.
That 5K video was running at 60fps which made everything more fluid, while the directional sound made my spine tingle whenever she spoke softly to me. Combine that with the fact that you can use a smart sex toy like a Kiiro (similar to a Fleshlight) to feel that blowjob and, well, good luck getting off your couch to do anything else. The best, by far, has to be when a hot Czech girl's pussy lands in your FOV, and you get to watch her play with herself. It's almost as good as the real thing.
Compatibility With Every Headset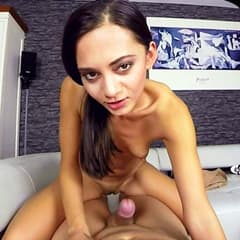 Okay, so streaming might not be Czech VR's strong suit, but they make up for it by offering phenomenal quality downloads for all major headsets, from the cheaper end like the Gear VR to the higher-end HTC Vive Pro. For maximum quality, you're going to want to use a headset like the Vive or Oculus Rift. But they still offer 5K downloads for lower-end devices, with specifications for each, ensuring you always get an optimal viewing experience.
These Czech Girls do VR Right
I have more kudos to give Czech VR, but this time it's explicitly related to the content. There are so many experiences to dive into here. I wasn't even sure where to start. Did I want to have a sexual coffee break with a co-worker, fuck a tattooed model with massive tits, or have sex with my redhead realtor? They're always producing new content too and if you think the fun ends there, guess again. Your membership also includes bonus VR sites like Czech VR Fetish and Czech VR Casting.
Whether you're new to virtual reality porn or looking to add another site to your list, Czech VR is worth joining. By the way, if you are new to this tech, they also have an incredibly helpful support page covering every single headset and they include images to help you follow along. Aside from that, any device you're using, from lower-end ones like the Oculus Go to premium ones like the HTC Vive, provides you with an immersive experience that'll both satisfy you and leave you coming back for more.