My Full VR Tag Team Review
Tag, You're It!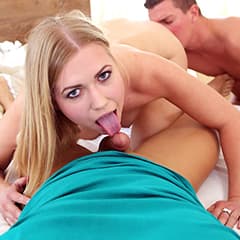 I hope everyone here knows that that site isn't going to feature immersive scenes of people running after one another, trying to touch them with both hands. Because if that's what you think, stop reading right now. For the hopelessly naive, adult tag-teaming involves two or more guys giving one lady "the business" at the same time. Or it could be the other way around with a team a women spoiling one lucky dude. Typically it's just 2-on-1, sort of like wrestling, but sometimes it's 3-on-1, which is stepping into gangbang territory, but I'm not going to be that picky.
More Than Just Tag-Teaming
So this site is owned by the same people who run VR Teenrs. Apparently they felt like the VR model is incredibly popular and that they should have two different sites. This is great, as the more adult virtual reality sites the merrier, is what I always say! But I'll let you know here and now that you can find the same content on both sites. This might change in the future, but for now, there's no need to get subscriptions to both. Also, not all the scenes are actual tag-team ones! There's masturbation and 1-on-1 scenes, too. I'm not really complaining, they're still really hot, it's just not what the sitename led me to expect.
Bonus Network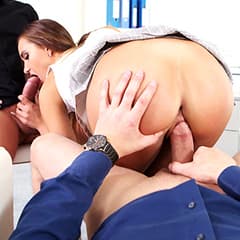 Any subscription to this site will include unrestricted access to a network of 16 hardcore sites, none of which are VR, though. That might not interest you, but then again, it very well might. There's a couple busty sites with babes who have boobs as far as the eye can see. There's a really fun cosplay site, a few fetish sites and some others that I'll leave as a surprise. And just because the videos on this network aren't ones that you can appreciate on your headset doesn't mean they're poor quality. These are either Full HD scenes or even 4K, so I think it's fair to say that the video quality will still attract and dazzle the eye. Not to mention the hot hardcore sex that'll attract your dick.
The VR is Good, But It Could Be Better
I downloaded a couple of scenes and played them on my Cardboard and Oculus headsets, since you can't stream them. I thought they were hot and played fairly well, but there were some scaling issues I noticed. Most virtual reality sites I've visited have the same problem, but it's being improved upon. Each scene also has its own image gallery, but they look more like vid caps than actual photos.
Another small issue I had (this is related more to the overall site design than VR quality) is that while there are multiple files to download for each scene, they don't indicate which headset they're supposed to play on, which is something you'll find on most other VR sites. Instead, the file types only list the resolutions. It's not to hard to figure out which is which, as the lower resolutions are obviously intended for your less sophisticated headsets, namely the smartphone-based ones, and the higher resolution files are intended for PC-based headsets. The overall layout could be improved as it looks a little amateur in my opinion. It's also light on user features, as all you get is a simple drop-down menu of niches.
Teens Doing Hardcore Virtual Porn
As mentioned earlier, this site and VR Teenrs are essentially identical with all the same pros and cons. The scenes are hot, featuring sexy, horny teens, but there was that issue with the scaling. You also get access to a huge network of non-immersive Full HD and 4K porn, which spans a bunch of really varied niches that I think will increase the value of your subscription here.