My Full VR First Timer Review
Try VR Porn Like It's The First Time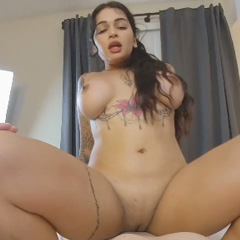 Virtual reality is slowly but surely becoming one of the most popular social mediums of our time, but there are still many people learning about it for the first time, and the same goes for VR porn. Legendary adult stars like Bridgette B. and Mia Malkova jumped on the virtual bandwagon early on, as far back as 2015, but porn newbies have to start somewhere, right? VR First Timer features sexy starlets like Kendall Karter trying to make a name for themselves in the adult industry. Using the captivating ruse of a casting call, these babes will do whatever it takes to impress you, their pervy director, into making them famous.
When porn studios caught on that VR was going to be the next big thing, dozens of sites scrambled to produce quick and expensive VR scenes just to have the content out there for this new community of users. Today, there are thousands upon thousands of videos, so how do you choose which one is best for you? In my humble opinion, if you're brand new to the niche, VR First Timer is an easy and exciting way to introduce yourself and learn at the exact same time as these gorgeous girls.
Come For the Babes, Stay For the 6K
You may be accustomed to streaming and downloading your porn in 720p to 2160p, which is considered the standard nowadays. When it comes to VR though, you'll want things to be more substantial in that respect. VR First Timer makes several options available from basic 2K for phone-powered viewers to 4K for PSVR and up to 6K for more powerful HMDs like the Oculus Quest 2 or HTC Vive. If you don't have a PCVR or a gaming console, you can also stream in 1080p quality directly or by plugging in the site's URL and watching through DeoVR, the free media player app.
While I do give props to any website offering 6K or higher downloads, I was disappointed with how small the scene selection is. They officially launched in April 2020 and there are only about a dozen scenes available, pushing me to assume that they haven't quite worked out a regular update schedule considering this would amount to less than one new scene per month. I could understand this if the content was blow-your-mind detailed with a strong storyline and fancy location, but pretty much every scene is shot in the same bedroom, on the same bed, without any extras to make it stand out.
Watch My Favorite VR First Timer Vids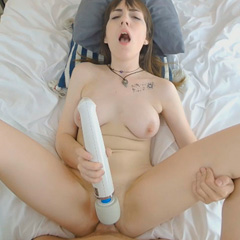 Just because there's less content than expected doesn't mean that there aren't some hidden gems here. My tastes vary quite a bit when it comes to model preference, mostly because I'm a sucker for a tough babe with a winning attitude over a pretty face (even though it doesn't hurt). "Marley Madden's First VR Video" leaves no questions as to what's going on, but I instantly fell for her and her long dark hair, curious brown eyes and booty that bounced all over the place. "First Timer Sia Lust" features this edgy petite blonde showing off her tiny tits and tattoos before bending over to give you one bonerific blow and bang.
Browse a Basic User Interface
I'm normally a huge fan of clean and simple interfaces that ensure a streamlined experience. When I visited VR First Timer, I was happy to see a homepage that isn't busy with ads and links but only has organized well-shot thumbnails and scene titles. But because of this simplicity, there are some areas I feel are lacking. While you're able to view the content by Video, Category or Pornstar, there is no advanced functionality, and the model index is broken and won't allow for sorting alphabetically. The scenes are dated, but only once you open a video's page.
You won't find any bonus content, but there are some vidcaps for each scene. Elaborate photos aren't necessary with VR because the magic is in the scenes themselves. This site provides four screencaps per scene, but they're only available to view as a web file – there aren't any .zips to take advantage of. Also, similar to the studio's other sites, the UI was riddled with bugs. All of the scenes on the main carousel are redirecting to 404 pages, which was particularly disappointing because I was interested in watching an advertised anal scene with newbie Nikole Nash.
Pick the Plan That's Best For You
Once you've decided that VR First Timer is the right place for your first virtual adventure, they make it easy to find the right kind of membership. There is no limited trial option to test out the downloads like on other websites, but you can stream 2-minute trailers without any commitment. They currently offer an inexpensive monthly membership, but you can also choose a 90-day, 365-day or lifetime subscription. Even if you've been around the block a few times and know your way around the VR porn industry, you'll get a kick out of these casting-call cuties fucking in VR for the very first time.