My Full Virtual Real Amateur Review
The Best Amateur VR Site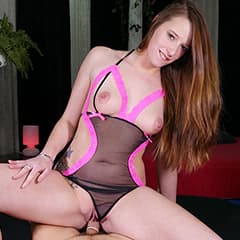 The Virtual Real Network has a series of sites that specialize in different niches. And Virtual Real Amateur is a functioning testament to the fact that VR porn needn't feature only professional models, but also works amazingly well when they're of the amateur variety. When you think about it, amateurs naturally complement the medium, 'cause they're so much more realistic themselves. While the network sites all have the same design and high-caliber scenes, don't expect access to them with your subscription.
A Good Variety of Amateurs
One of my favorite aspects of amateur performers is that aside from them not being professionals, there is no one type. Which is reflected in the content you'll find on VirtualRealAmateur. There are teens, matures, girls with black or blonde hair, busty babes, flat-chested ones… You name it, they've got it! Many people think that amateur models are always going to be shy or come off as naive. Not true. A lot of these girls, especially the ones you'll see on this site, are extremely sexual and clearly love fucking on camera. I just think they see it as more of a hobby than a career. And while they might not be rated as perfect 10's, they're all attractive in their own right.
Technically Flawless Scenes With Perfect Scaling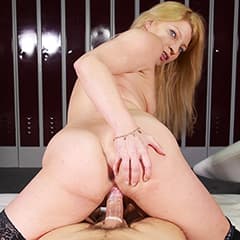 The network makes some of the best VR scenes I've seen to date and Virtual Real Amateur is no exception. Visually, they're appealing and, more importantly, believable virtual reality scenes. One major issue you might have noticed on other sites is with scaling, where a girl looks like she's different sizes when she's farther away or when she's close up and even their boobs look like they're a different size when she's riding you back and forth. Not the case on this site. The videos have better color as well as clarity, both of which add to the overall believability factor. I would like to see them change up their sexual positions a tad, though.
PSVR Compatible
Another reason why Virtual Real Amateur and the rest of the sites in this network are a cut above the rest is because they're on the ball when it comes to making all their scenes accessible with every major headset, including the PSVR. When Playstation's version first came out, there was some confusion in the adult industry as to whether it could be used to play their scenes. Sure enough, with some tinkering, the PSVR can and here you'll find a specially formatted file to download. There are also files for the Oculus and VIVE, as well as hi-res and low-res ones for Cardboard and GearVR users.
Good News for Kiroo & Lovense Users
Not only are these scenes compatible with multiple headsets, but they're also compatible with teledildonic sex toys. If you've got yourself a Kiroo or Lovense vibrator or fleshlight, these scenes will activate your device and make it work according the speed of movement of the girl you're watching. This adds a whole other level of reality that I really don't think you want to miss out on. No more touching yourself 'cause you can let technology do it for you. Not every scene will work with every device, though, so make sure to filter them accordingly. You can find that filter, along with others for models, point of views and genres, under the videos tab.
These Performers Come to Life in VR
There are many different reasons why I think VirtualRealAmateur is my new favorite amateur porn site. The first being that I'm pretty sure this is the first ever VR site that offers amateur porn exclusively! The other reasons really belong to the network, which ensures that all of its unique virtual sites have the same excellent design and user interface, but more importantly have the best quality scenes and especially the teledildonic compatibility. Check it out today. You're gonna love it!