My Full Virtual X Porn Review
You Know What X Stands For, Right?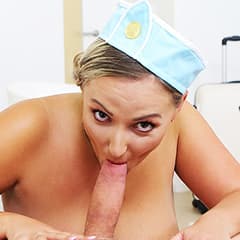 I just realized how X as an abbreviation stands for sex. It's the only single-letter abbreviation I can think of where the last letter of the word is used as opposed to the first. So when they say Virtual X Porn, they mean Virtual Sex Porn. Whoo, that was a close one. I thought I'd point that out just in case you thought X represented an unknown variable and you wanted to solve it. But, yeah, this here's another sweet hardcore site featuring smoking-hot biddies in 3D and 180° for that ultra-real feel. There's no overarching theme, just women riding dicks and suckin' em.
These Euro Babes Can Fuck Like No One's Business
If you've got a thing for the Eastern European look, then you'll be glad to know that VirtualXPorn almost exclusively features those sexy European performers. They're all in their early 20's, with the exception of a couple cute MILFs. You can find blondes, brunettes and dark-haired beauties spread out equally among them. What's more, there's even a pregnant model thrown into the mix, if that's your thing. What's for sure though is that all of these Euro babes are what I'd like to call professional sex artists. Perhaps my favorite feature of this site was the model roster that provided a bio and stats for each performer, plus some exclusive hardcore photos. You can vote for your favorite girl and sort through that specific performer's videos.
Videos Might Need a Little Tweaking
It might not be a big deal, but I found the 3D effect lacking in comparison to other sites that definitely have the VR production on point. It's hard to describe technically what's lacking in the videos, but they just don't pop out like on other sites. You can sort of see the depth when the performer turns, but her boobs and butt just don't stick out in such a way that will fool you enough to reach out and see if you can try and grab it. I've been on a few other sites that have similar problems, so it just goes to show you that not every site can easily produce flawless virtual porn. I was able to make the best out of this technical problem, however, by adjusting the settings on the video. I recommend you try that as well if you're experiencing similar issues.
Hot Babes in VR Right Here
When all's said and done, Virtual X Porn will provide plenty of hot videos featuring smokin' hot women having sex. Yes, there were those technical problems with the videos, but sometimes I was able to tweak the settings and improve upon what was lacking. Let this be a lesson to anyone who's curious and excited about virtual reality porn, as some sites are still struggling with the technical aspect of it. This site is pretty good about it, though, compared to some others I've seen.