If you're even remotely interested in virtually fucking European teens, Sex Babes VR should be on your radar. Using my Oculus Quest 2, I experienced HQ 3D videos and a variety of teens to choose from. I used my Quest 2 because it's the more powerful headset and is best suited to a 5K VR scene, but the site has you covered if you have a different device. Downloading is the way to go here, though I was still able to stream easily using the Deo VR app, even if the resolution only went up to 4K.
My Full Sex Babes VR Review
Czech Babes in 5K VR on a Quest 2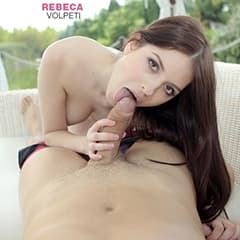 You have to love a sitename like Sex Babes VR. Right off the bat you know what you're getting: virtual sex with hot girls. What you might not know is that these teens (and some MILFs) are from Hungary and the Czech Republic. I counted around 390+ videos so far. Each is filmed in 180° POV at 60fps. They don't explicitly have a download for the Quest 2 – it's my go-to device because I prefer the freedom of a wireless headset – so I just downloaded the Rift versions since I knew my Quest 2 could play them. Everything looked sleek and polished, like I could reach out and touch the girls. All the videos are recorded with multi-directional audio, meaning you're getting surround sound and it's also why they're best enjoyed with headphones.
Downloads for Every Headset
You'll have the option to stream and download. On the one hand, I prefer to download and avoid any potential buffering issues, but sometimes I'm feeling lazy and just want to start watching right away. If you decide to go ahead and stream, either use your headset's built-in browser or use one of the widely available free apps, like Deo VR. Both options are fine, but the streams only go up to a maximum of 4K. Though, in my opinion, the difference is hardly perceptible. I also never encountered any lag.
If you choose to go the download route, you'll get multiple options for each headset. The highest quality gives you the 5K res I was talking about and they have the highest bitrates, which are going to look best on a high-end device like a Rift or HTC Vive. Don't worry, even on lower-end devices like the PSVR or Gear VR, you'll get that quality, they're just formatted to run at the maximum capability of the headset in question, so they might not look as sharp. Just a head's up – those files can go up to 18GB, so make sure you have the space and bandwidth.
Virtually Fuck Czech Teens
The site looks good, with bright colors to match the girls' wild personalities. They're all slender, some with big boobs, others with perfect handfuls, and you'll come across blondes, brunettes and redheads. Most of them seem to be popular pornstars from the Czech Republic, like Lexi Dona, Sybil A. and Daisy Lee. There are some Russian and Polish girls too. If someone's not familiar, they have bios and stats so you can learn more.
In the majority of the videos, you're the one fucking the girls, but I spotted at least one scene that used a "Tommy torso," which is just a sex toy made to look like a male's torso. Yes, it's a bit odd. Moving on, the head tracking was on point with minimal latency, so if I wanted to look over my shoulder to see her foot dangling while I fucked her missionary, I could. To that point, I had to reposition myself because I was initially sitting down and the scene I was watching was best enjoyed standing up. I'd like to see them eventually add some recommended positions.
Explore the VR Help Guide & Forum
In the forum, sometimes you get sneak peeks of upcoming scenes. It's also a good spot to get support. The webmasters are often active there, so post about your problems and wait for their response. It's also a fun place to just converse with others about your favorite scenes and pornstars and share tips and tricks for the best VR viewing experiences.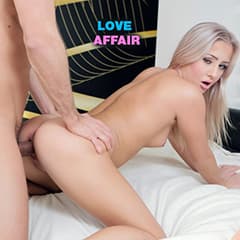 If you need help getting a video to play on your HMD, you can consult their VR guide. It's decent enough but suffers from the same issues I find on a lot of VR sites – outdated info. Things are always improving and changing in the metaverse and sites like Sex Babes VR need to do a better job of keeping up. For example, the PSVR guide states that the Littlestar app is still the best one to use. Not only is that app now called RAD., but there's also another great app called WatchVR that they don't mention. There's also no support for devices like Quest 1 and 2.
Experience Sex Babes VR Today
Sex Babes VR's content has always been a favorite of mine. Though my only complaint is that they need to try and stay on top of trends a little more, like filming in 7K or even 8K (which a lot of other sites are doing now), updating that help guide and adding compatibility for the newer headsets like the Quest 2. Regardless, they always have the hottest Eastern European girls for you to fuck virtually. I honestly had as much fun browsing all the movies as I did watching them. And while you may not get any bonus content, the collection is big and updating regularly, so it's only going to get better.