My Full Catalina Cruz Review
Cruise On Over Here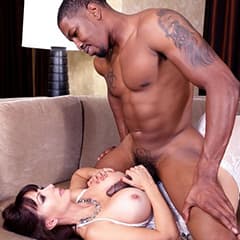 Welcome one, welcome all, to Catalina Cruz's flagship site. This is a huge site with a lot of fun and hardcore content that's guaranteed to keep you busy and satisfied for a good long while. And this isn't just me saying it. AVN has awarded this site a grade of 9.8/10! That's near perfect. Chances are you've come here in search of some sweet hardcore VR porn starring Cruz and you won't be disappointed. There's certainly some VR content on this site, but there's also a whole lot more, like 100's of UHD hardcore scenes, recorded live cams staring Cruz and invitations to her ongoing live shows, which are free for members. You can also find her blog, Twitter feed and personal email.
Who is Catalina Cruz?
She's in her mid to late 30's, which definitely puts her in the MILF category. She's pretty, with a pair of tits that just won't quit, plus she's just got this supersexy vibe that's almost hypnotic. And, of course, with a name like Catalina Cruz, I wouldn't blame you if you thought she was a Latina and that consequently this was going to be a hardcore Latin site. However, all it took was a quite Wikipedia search to find out that she in fact hails from Eastern Europe. Doesn't matter, though, she's still sexy either way.
Enjoy the Whole Network!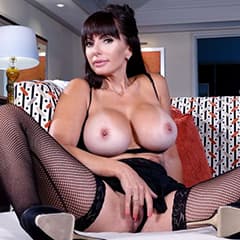 CatalinaCruz isn't just a pretty face on top of a bangin' bod. She's a self-made woman and from what I can gather, she runs not only her own individual model site, but also a full 25 other sites, which are included in your membership, and are full of hardcore action. They include other individual models who are some of the most beautiful and sexiest women on the planet like Lela Star and Sienna West. And in case you were wondering, yes, you can also use your headset on two other sites in the network: Fantasy Girl VR and Stuffed VR.
Stream Hot VR Scenes
One thing you should definitely know about the content on Catalina Cruz and the rest of the sites in her network is that everything is streaming-only, including the VR scenes. No doubt an anti-piracy effort, but I have mixed feelings about this. On the one hand, anti-piracy efforts are important to make sure people keep buying porn so that quality content can be made. On the other hand, if you're streaming a hot 3D 180° video where Cruz is riding you like one of those mechanical bulls you find in a Western-themed bar and you're getting really into it and can barely contain yourself, the whole fantasy might turn to crap if the scene starts buffering. My advice is to just make sure you have a good internet connection before you immerse yourself in these hardcore scenes. They're organized into the following categories: Cam Archives, Boy-Girl, Girl-Girl, Video of the Week and Behind the Scenes.
It's Your Chance to Get With Catalina Cruz!
There's a couple of aspects of Cruz's site I think could be improved upon, like the layout, lack of browsing tools and the fact that the scenes are streaming-only, but as a whole, there's just way too much hardcore content for me to dislike the whole thing. I mean, you're getting a total of three hardcore virtual reality sites in addition to 22 others, all for the price of one! Plus, there are cam shows and if you've never watched one before, then you're really missing out on one life's best experiences. Trust me on that one. Follow Cruz through her Twitter feed and sign up to her site today.