My Full Yanks VR Review
Yanks VR is For Yankers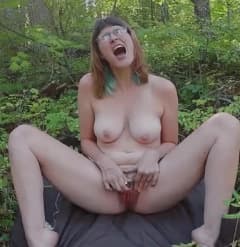 Yanks VR describes itself as "Amateur Girls Playing – Filmed by Girls Watching." But that doesn't mean dudes can't get off to this. Quite the contrary, in fact. I dare any straight man to watch this and not be interested. The site has 38 scenes with an average runtime of 7 minutes. Of those 38 scenes, 11 of them are interviews. These are interesting to say the least. While they won't feature any kind of sex, they are in-depth and intimate. And the talks can be erotic.
Content & VR Effect
While this is an all-girl site, they still manage to offer a good variety of niches for you to enjoy. The scenes can have masturbation, girl-on-girl action, squirting or "orgasmic contractions." You can also search through a keyword list to look for things such as "short hair" or "hairy pussy" and there are others. A few of the videos are not in 3D, which I feel completely gutted the immersive experience, but they were still pretty decent to watch for what they were.
YanksVR also does a pretty good job when it come to being supportive and versatile in helping their customers watch the content. Every scene can be download in four different formats (you can't stream here), that cover all the mainstream VR devices out today.
The Talent
In terms of variety, the talent consists of white amateur models in their 20s and early 30s. These are everyday girl-next-door types who will definitely get your engines goin'. They're not necessarily stunners, but they're very sexual and it comes across really well, I felt. While an all-white cast might seem boring to some, there's still some variety within that group, largely with different breast sizes, body frames and hair color.
Features & Value
YanksVR has been updating pretty regularly, with a new video being uploaded every three days for the past few months, which is always encouraging. Whether or not you sign up for a month or a year is up to you, but I think the best value lies in the 6-month membership, which at $19.98 a month would save you nearly 50% off the regular monthly membership.
Final Verdict
Overall, I think Yanks VR is a great. The VR effect in their scenes was practically flawless and the content is incredibly hot. They might not be the best value for the number of videos they currently possess, but if they continue to update at the rate they have been since going online, the volume will increase in no time. They also maintain an active presence on social media. Here are links to all their various feeds: Facebook, Twitter, Instagram, Tumblr. Have fun!