Jerking off in front of a hot babe as she seductively gives you words of encouragement and tells you how she wants you to stroke your cock might be one of the hottest things ever, and it's exactly what you'll get to experience in this collection of VR JOI porn. Some of the girls are soft in their approach, others are demanding. Whatever your preference, it's here in a decent collection of nearly 6K 180-degree videos with binaural audio. There's no bonus content, but they update frequently.
My Full Wank It Now VR Review
Masturbation Encouragement in VR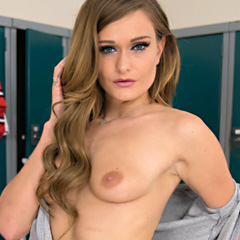 I've never really thought of masturbating as a spectator sport but based on what I've just seen on Wank It Now VR, it's better when someone else watches you and gives you some words of encouragement. Actually, it's incredibly hot when you're getting jerk-off instructions from a sexy blonde with big tits who strips as she tells you how fast and hard to stroke yourself. And that's just the tip (pun intended) of the iceberg!
Dozens of Different JOI Scenes
Don't think of JOI porn as a "one size fits all." These girls all have very different approaches to the way they're going to talk to you. Some take an encouraging approach, telling you how turned on they are by watching you stroke your big cock and wanting to swallow your cum so badly. Other babes are more commanding and demand that you jerk off in a certain way. There are even some SPH (small penis humiliation) videos. So whatever flavor of this fetish you want – it's here.
So, who do you want telling you how to wank? A redhead with big tits? A Domme in a red latex dress with a British accent? How about a blonde teen wearing a schoolgirl outfit? With over 80 videos to choose from, you'll have any kind of girl you want teasing you with her body and showing you her tits while you stroke yourself in front of her. And they're always giving you more – right now, they're adding a new video every two days.
Get Up Close and Personal in 3D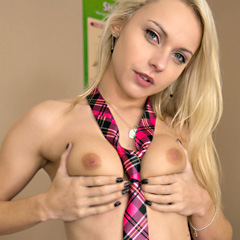 These VR scenes are so clear, you'll think these girls will walk up and actually touch your dick – if only such a thing was possible. They label all their videos 5.7K, which I guess is as close to 6K as possible. Either way, when I strapped on my Oculus, I was blown away by the 3D, 180-degree views. When these babes talk, it's super clear thanks to the binaural audio, and since each video runs at 60FPS, you're ensured a seamless viewing experience. Other compatible headsets include Oculus, Vive, Gear VR, PSVR, Daydream and all Smartphones.
If you're not sure where to start, a good place to begin is the dropdown category list. Not only are there categories based on the girl's age, body type and breast size, but there are also ones for the location of the video and the types of outfits worn. You've also got some sorting options and you can go ahead and rate the scenes or post a comment. Since it's growing so fast, it'd nice if they let you save your favorites or give you an advanced search.
Let These Babes Tell You How to Jerk-Off
If you've never had a teen or MILF seduce you with her words as you jerk off, you're missing out! But this is your chance to dive in and experience it on WankItNowVR. Every girl brings something a little different to the table, whether it's the way she talks to you or the outfits she's wearing to tease you. And sure, you might not get any bonus content, but everything here is incredibly sharp and immersive and the site is growing quickly, so hopefully, they keep up the momentum. So lay back and let one of these babes give you a virtual lesson in JOI!