My Full VR Teenrs Review
Welcome to VR Teenrs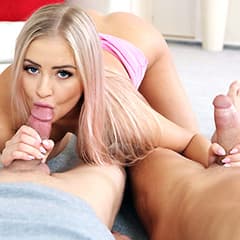 This is a VR site featuring everyone's favorite adult models: teens. These fresh-faced beauties are hot enough and tight enough to make your dick wanna cry in jealousy. But it doesn't have to be that way, 'cause as soon as you strap on your headset you're going to see these young goddesses start gobbling down your cock as if it was about to spew out the elixir of life or something!
Know Your Resolution Specs
These scenes can range anywhere from 10 to 20 minutes long. Each also has a pretty extensive photo gallery that you can check out in a slideshow or download as a Zip, though they really look like vid caps to me. You can stream these scenes, but not in VR. And when you're ready to download them on your headset, the site lists four different files, but not according to headset, rather by the resolution specs. So in case you didn't know, 1920p is best for Cardboard and GearVR users, and I'd recommend the 3840p for Oculus and VIVE users. The difference between 30fps and 60fps is really up to the individual and/or how well your device functions.
Lot of Different Kind of Scenes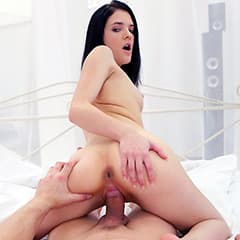 The scenes on VRTeenrs have a fair amount of variety activity-wise. These include masturbation, boy-on-girl POV, threesomes, foursomes (think reverse gangbang) and a few unique videos like nude ballet. Like I mentioned earlier you can't stream them on your headset, so I downloaded them and played them on my Cardboard and Oculus. They both played fine and I enjoyed them, but I've seen enough virtual reality videos by now to notice when the scaling is a little off. In their defense this is actually a common problem that I've found across many other sites, where the woman looks like she's a different size when she's far away from you. It's nothing that will result in you being turned off, it can just seem a little weird at times.
While I'm a big fan of the scenes on this site, I would really like to seem the site get an overhaul when it comes to the layout as well as its user features. The site has an overall amateur look and there's no search engine or tags, just a drop-down menu of niches. You can rate and favorite the scenes, but that's pretty much it.
Huge Bonus Network Access
Now I know that you come to read my reviews because you're just interested in learning about the latest VR sites to the point where you don't even want to know about non-VR content. So I won't even bother to tell you that any subscription to VRTeenrs will grant you full unrestricted access to their entire network that consists of 16 hardcore sites including vintage porn, Asians, BBWs and fetish content, just to name a few. This broad range of scenes numbers around 10,000 and they're all yours. They're also in Full HD and some are in 4K, but it doesn't seem like you can download them. Still, it's a pretty good deal if you ask me.
Best VR Teen Site To Date!
While their immersive videos function well and deliver a mesmerizing experience, call me old fashioned, but I watch porn 'cause I like to see women get up to sticky debauchery. So many of these teens can take a real pounding, often taking on two cocks at a time and they still have enough energy and enthusiasm to eagerly catch their well-earned money shots on their beautiful faces. I hope that in time the site improves their design with a more streamlined and professional look, but it's not a deal-breaker by any means. I'll still be visiting periodically to check out their newly added videos and so should you.