My Full Dezyred Review
Create Your Own VR Porn Journey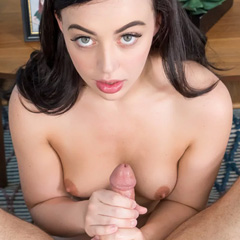 One of my favorite virtual porn sites is VR Bangers. I've made that clear multiple times. Everything from the quality to the experiences is top-notch. So when I heard they were launching a brand new interactive 3D game, I was excited. And I'll tell you right now that I had a blast playing it!
Dezyred is not the first VR game to exist, but it's easily the most unique and here's why. The level of interactivity extends far beyond making simple choices and, in many ways, is like a video game. You'll be walking around a virtual environment, picking up items that unlock different activities and, of course, interacting with pornstars.
Play Dezyred on an Oculus Rift
The first thing you'll want to do is create a free account. There's no monthly membership. Instead, the site works with credits – kind of like an arcade, which makes sense. You'll be using the coins to advance the story. When you verify your email, they give you 600 free credits.
The game is only playable through the PLAY'A app on an Oculus Rift, or Steam-powered headsets like the Vive or Index. Even though the app is available on other devices, like the Gear and Oculus Go, the game is currently not compatible with them. But they claim it's coming, so let's hope it's sooner rather than later. If you own a Quest, there's a lengthy workaround you can use to get PLAY'A to work on it. Head to the site's Help section and follow the instructions.
A Virtual Story With Multiple Outcomes
Dezyred has "stories," not videos. The site is still new, so the only story currently available is "Double Trouble," starring Whitney Wright and Lacy Lennon. However, it gives you seven hours' worth of play time! Plus, they're already teasing two more stories on the way starring Angela White, Morgan Lee and others.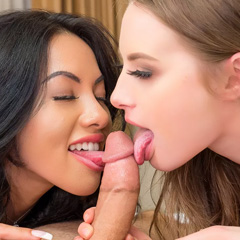 You'll be doing everything from interacting with everyday objects within your vicinity (like a TV or a door to walk into another room) to talking to pornstars (with a male voiceover meant to be your character) and spying on other girls in the house. If you play your cards right, you'll end up getting lucky. By the way, any form of interaction requires you to use your device's remote controls. If you don't have them, you can usually pair up with an Xbox controller instead.
Assuming you make all the right choices and end up bedding one of these babes, you'll get to choose where you want to fuck, what you want to do (suck your dick, watch them squirt, anal sex) and whether or not you want to give them toys. And that is just a small taste. There are multiple outcomes to discover. And just like Xbox and Playstation, certain in-game actions unlock achievements. For example, there's an achievement for getting Lacy and Whitney to have sex with each other.
Use Your Credits to Make Decisions
Now, where do the credits come into play? You need them everytime you make a choice. Specific actions can cost anywhere from 150 to 500 credits. You can get a package of 8000 for $25, which sounds like a lot, but you'd be surprised how many different choices there are to make, so it adds up fast. I spent close to $35 just trying out all the different outcomes! One thing to keep in mind is that not every choice immediately leads to sex, so don't be disappointed if you don't get the outcome you want. But hey, that's also part of the challenge and fun.
Immerse Yourself in 8K Gameplay
I was so involved in the game that I almost forgot to pay attention to the quality! Well, this part I don't mind spoiling and I can tell you that everything looked fantastic. They advertise 8K and I have no reason to dispute it. The 360-degree environment was super clear and runs smoothly at 60fps to 90fps. I was worried about buffering with such a high resolution, but I never had any issues. The Rift is a powerful device, though, so no surprise there. Eventually, when they add compatibility for something like the less powerful Go, I hope the experience will be just as smooth.
Some Minor Bugs to Know About
Like any game, there are kinks that need to be ironed out and I encountered a few bugs. At one point, I made my choice but nothing happened. I clicked again and it finally worked, but because of it they deducted twice the amount of credits from my account. The game froze on me once too, but restarting the PLAY'A app was a quick solution. I'm sure they'll continue to work on patching any issues, but until then, if you spot something you think they should know about, there's an online contact form to reach them. There's also a help section in case you're having trouble getting the game to work on your device.
Only One Game But Hours of VR Play
Dezyred is a fantastic concept that simply needs a little refining. The Rift and Vive are super expensive and not everyone has the budget for one so it's a shame the game limits those users. Still, as long as they keep their promise to add more compatibility – and keep the experience as smooth as it was on my Rift – then you'll just need to be patient and wait it out. I'm not even worried about those few bugs and I'm sure they'll address them soon. Now, if they somehow make the scenes compatible with smart sex toys, that would take the whole experience to another mind-blowing level!