Entering the world of Dark Room VR means exploring the kinkier side of your sexual desires. You'll get to experience scenes with cuckold elements, bondage, taboo sex with stepdaughters and more. You'll recognize many of the babes, some of whom are sporting tattoos and piercings. That's just some of what you'll experience in this collection of 7K VR porn, with various download options suitable for all headsets. You don't get much content right now and there are no VR bonuses, but they're regularly adding new videos and a monthly membership is affordable.
My Full Dark Room VR Review
Enter the World of Dark Room VR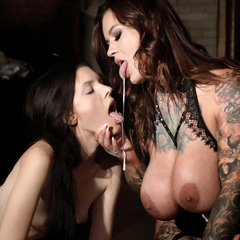 To most people, a dark room is where photos are processed. But did you know that it's also the code name given to secret rooms in bars and clubs where patrons go to have sex? The latter is far more accurate in terms of what you're going to experience on Dark Room VR, a site that's all about exploring your kinkier side in virtual reality.
Immersive 7K Videos With the Rift
I was already enamored by the pornstars in the big thumbnails, with many of them sporting tattoos and piercings. So I wasted no time setting up my Oculus Rift. They were advertising 7K scenes, so I made sure to use a high-end device that could power them. They have downloads for all headsets, though, so even if you own something a bit on the lower end, you're covered.
Keep an eye out for the size of the downloads. Depending on the one you're going with, downloads can be anywhere from 6GB to 10GB. Not a problem if you're using a Rift, since you're likely storing the videos on your PC, but it could be an issue if you're side-loading videos onto an Oculus Go that only has 32GB of space.
Experience 180 Degrees of Pleasure
Whichever headset you're using, you'll be impressed. The movie I watched was running at 60fps, but I have to say, at times, it felt like 90fps. The girls' movements were that fluid and smooth. I also recommend using headphones so you can take advantage of the binaural audio. So when a girl is on her knees sucking your cock, the sound comes from below. If she's on top of you, it's a little higher.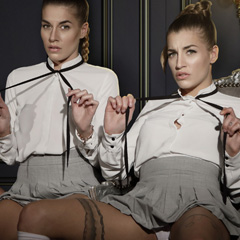 Enjoy Streaming in 4K
After my success with downloading a few videos, I wanted to try streaming. I like to use the Deo VR app, which is free. But this was one of the first times it didn't work. The videos simply would not play. So I switched to using my headset's browser, accessed the site that way and had no issues. You can stream up to a maximum of 4K.
I did experience some weird video orientation, though. It's hard to explain, but basically, everything looked a bit crooked. But It was an easy fix. All I had to do was go into my Rift's settings and click the Reset View button. If your video looks a little off, try doing that.
Explore a Kinkier Side of VR Porn
The themes range from playing the role of a teacher fucking his two hot students to a man who shares his virgin wife with his best friend on their wedding day. Expect women wearing chokers, rough sex and threesomes. And these aren't short scenes, either, at around 40 minutes each, so there's plenty going on. There's often a little dialogue in the beginning to set things up, with the girls talking directly to you and looking into your eyes. Expect to transition through different POV positions once the sex starts.
The only negative is that the collection is small, with only 16 videos and no bonus content. But the good news is that you never have to wait long for more. As of right now, they're releasing two new scenes per week. So just hang in there.
Dark Desires Become Reality
Okay, so maybe this isn't the biggest collection of VR porn, but Dark Room VR still has merit. Plus, it may be small now, but clearly, they're showing signs of growing fast. And right now they're only charging $10/month for a membership, which is an absolute steal. You probably spend more buying coffee every week.