Bottom Line
Real Hot VR definitely has potential, but it's just not realized yet. In theory, it's nice that they offer downloads for every headset, but what's the point if some of them, like the Oculus Rift and PSVR, have broken links? Still, while it was decent on my Oculus Go, the max res is 4K so they're not top of the line. I did enjoy these mostly solo scenes, where the girl (or girls) play with sex toys while talking dirty to you, so don't expect any virtual sex. It's a small collection though, so here's hoping they eventually produce more content.
My Full Real Hot VR Review
Get Ready to Feel Real Hot VR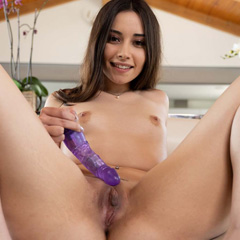 Is there any confusion about a site name like Real Hot VR? Maybe it doesn't give you any specifics, but that's my job! There's no doubt it's a VR porn site, but what I only found out later was that it's a solo site where teens and MILFs pleasure themselves while talking dirty and acting like I'm the one having sex with them.
As soon as I logged in, I noticed all the content on one page with an endless scroll. I didn't have to scroll for long though because I only got 15 videos. And with no dates, I can't tell you when/if they'll be adding new content.
4K Videos on an Oculus Go
Small collection aside, I couldn't wait to virtually get my hands on some of these babes. They've got compatibility for all headsets, including the Oculus Rift and Go, HTC Vive, Gear VR, PSVR and more. I decided to use my Oculus Rift but was immediately hit with a roadblock – none of the downloads worked! I made sure the issue wasn't on my end by restarting my computer, clearing my cookies and even trying to access the site on other browsers. But each time I got an error message. This happened when I tried to download the PSVR version too. Needless to say, it was an inconvenience. For the ones that do work, they're specifically tailored to match each device so that was good.
So I switched to my Oculus Go and the download was functional. Every scene is in 4K running at 60fps, so they looked relatively smooth. But I'm noticing Ultra HD becoming more obsolete – I've seen 5K, 6K and in some cases even 7K videos on other VR sites. I hope they eventually upgrade. And I wish I could say the streaming was good, but it wasn't. Using my Oculus' built-in browser, I tried streaming a few scenes and it looked like they were only going up to 1080p and sometimes buffered for five to seven seconds.
Enjoy (Mostly) Solo VR Porn Scenes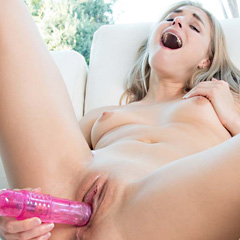 I have to admit, I was hoping to virtually fuck these girls, but only one scene is a POV blowjob. In the rest, the babes talked to me about how hard I was "fucking" them or how they love sucking my cock, but they're either just pleasuring themselves – or each other when it was two babes – or using dildos to pretend they're giving me a blowjob. At one point, a cutie put her pussy right in front of my face and was acting like I was licking her to orgasm. Seeing those wet pink lips up-close had me hard as a rocket.
Head-tracking was definitely on point as I took in my 180° surroundings and I never experienced VR sickness which is caused by latency issues. A lot of the MILFs were talking dirty too, so hearing them moan gave me chills thanks to the stereoscopic sound. I would have liked some recommended seating positions, though, like if it's best to sit or stand but I played around a bit and still got off.
A Small But Affordable Collection
Real Hot VR's membership is affordable for what you're getting. But I'd still like to see them address a few things before I give it my full recommendation. I'd like to see them offer a more premium experience by shooting in 5K or 6K, fixing all those broken download links and find a way to make streaming better by fixing the buffering issues. I know the latter can be done because I've seen some incredible streaming videos on other sites.