My Full Fantasy Girl VR Review
Where Fantasies Become Virtual Realities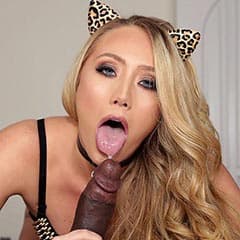 It goes without saying that the average male spends a helluva lot of time in their heads fantasizing about all the women he'd like to fuck. More often than not, these women are of the super-gorgeous, could-probably-be-a-model-if-they-wanted-to variety. The chances of actually coupling with these babes are just not in the average man's favor, and what's more, even if it did go down, it's even rarer that the experience would live up to the fantasy. That's why sites like FantasyGirlVR exist so that your fantasy of fucking a pornstar hardcore-style will be exactly as you've dreamed it would be.
Ever Heard of Catalina Cruz?
Out of the dozens upon dozens of hot Fantasy Girls on this site, the grande dame of them all is clearly Catalina Cruz. I say that because ads for her scenes on this site are really hard to miss and included with your membership is special access to her personal live cam shows. Believe me when I tell you that she's going to turn you on. She's a really sexy MILF with a couple of huge funbags and an insatiable appetite for as many cocks as she can devour at one time. You'll also have access to her own personal hardcore site, and about 25 bonus hardcore sites, that includes hardcore teen, MILF, blowjob & lesbian content, as well as many other individual model sites who are also featured on FantastyGirlVR.
Streaming-Only Scenes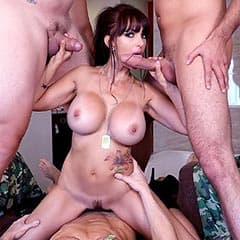 And just when you thought Fantasy Girl VR was going to be just like every other virtual reality porn site, wham! I'm talking about the fact that their scenes are streaming-only and there's no option to download for any viewer whatsoever. Some sites do this for various reasons, but I'd bet it's an anti-piracy effort, so you can hardly blame them.
Exclusive Content
here's two sides to this coin. The pro being that you'll know this content is exclusive and you won't find it anywhere else. And the obvious con being, streaming can be problematic, and even moreso with VR. The scene's will stream effortlessly on all of your devices, whether they be smartphone viewers or desktop, but when streaming a scene to my Oculus Rift, I noticed that it just didn't stand up to what I've come to expect from adult VR content. There's no way this was playing in 4K. But I didn't seem to notice any difference when I streamed it through my GearVR. Your experience might vary though.
New Scenes Often!
If you're the type who relies on a site's search tools to help navigate their content in order to find exactly what you're looking for, well then, brace yourself 'cause FantasyGirlVR has got none. And it's not as if they've got too small a scene count for it to matter, they've got a pretty decent number of scenes and they're uploading new ones fairly regularly. I really enjoyed this site overall, 'cause the models are hot and the sex is hardcore. You'll love it too!