My Full VRB Trans Review
Tgirl VR Porn on an Oculus Quest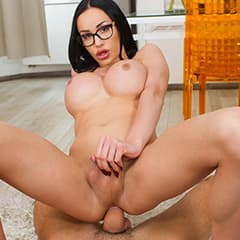 You might already be familiar with my love of VR Bangers and they're one of the few sites shooting in 6K. But did you know that they also have a Tgirl site? It's called VRB Trans, and I'm pretty stoked about checking it out today. I wonder if it's going to be as good. Let's find out, shall we?
They provide downloads for the Oculus Rift and Rift S, Oculus Quest, Vive, Daydream and Gear VR with multiple resolutions for each. For this review, I decided to use my Oculus Quest. I wanted to use something wireless, so I wouldn't be dealing with a bunch of wires and didn't have to be limited to one room.
Enjoy 4K Videos With Zero Latency
I started with a 4K video called "From Paris With Love." After downloading it to my headset, I took in my 180° surroundings, which happened to be a swimming pool with the lovely Bailey Paris floating in it. The movie running at 60fps meant everything looked real, like the light off the water and Bailey's body in front of me. Before we got to the sex, we walked around the pool a bit, which can cause VR sickness, but thanks to optimal head tracking and minimal latency, I never needed to take a break.
More 5K Vids (Hopefully) Coming Soon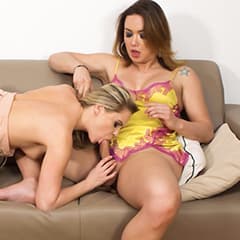 The latest release is a 5K video and the heightened sharpness is noticeable. It doesn't explicitly say it's running at 90 frames per second, but to my eyes, it was. Not sure when they're going to add more in that resolution, because the one area that VRBTrans falls short is their update schedule. There's no rhyme or reason to it, and they often go months without adding anything new.
Try Their Free PLAY'A App
I usually stick to downloading VR porn to avoid buffering or lag issues, but these folks have their own streaming app called PLAY'A. It's free and it works beautifully! All you need to do is download it to your headset. In my case, I got it from the Oculus store. Within seconds of launching it, the entire library was accessible and ready to stream with a single click. I never had any lag issues either. So, if you're looking for a quick way to get into these scenes, this is your best bet.
Only the Hottest TS Pornstars
The sexiest Tgirls are here, including Bailey Paris, Eva Paradis and my personal favorite, Mia Maffia. I saw both post and pre-op models and a variety of ethnicities too. All 103 scenes have a reality theme, like fucking the pizza delivery person or having a threesome with your girlfriend and her TS friend. It even gave me recommended sitting positions like standing, sitting or lying.
When I saw a "Feel her with Fleshlight" option under the streaming player, I thought it might be a way to connect a smart sex toy, but it's just a store where you can buy Fleshlights, and from what I could tell, none of them were molded off the Tgirls.
Bang Your Way Through Trans VR Porn
I have no problem putting VRB Trans on my top 10 list. It's a solid site with high-quality virtual porn and it's not expensive at only $24/month. That's less than a cup of coffee a day for true 180° stereoscopic 3D videos and virtual intimacy with the top transgirls in the industry. Sure, they don't update that often but the collection is already big and I found myself re-watching the scenes multiple times anyway.