My Full VRB Gay Review
180° 3D Hardcore Gay Porn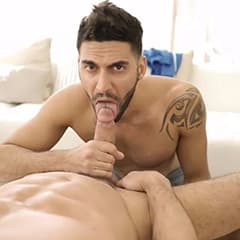 As 180° 3D porn continues to grow in popularity, we're witnessing an explosion of brand-new sites with new and improved graphics, personalized options and, yes, favorite niches. It goes without saying that up until relatively recently, adult VR consisted almost entirely of run-of-the-mill hardcore content, with very little in the way of special genres. Well, hold on to your gay porn lovin' butts 'cause VRBGay is 100% gay.
VRB Gay belongs to the Virtual Real Bangers network, which currently consists of a few sites, but don't expect network access. But you're probably not interested in those other sites since none of them have gay porn. But all the network sites do share the same high-quality features. They have excellent layouts, intuitive user interfaces and important information at the bottom of each scene. All these features make surfing this site a breeze.
Pick Your Sexual Position
Not only does VRBGay have all of the regular sorting options, categories and keywords to help you, but there's a sorting option here I have yet to find on most other sites – sexual position. For instance, there's standing, sitting, lying down and swivelling. Believe me when I tell you that you have to try out those swivelling scenes, they're out of this world. Being in the right position for the right scene does wonders for the reality factor of your erotic experience. As for the scenes themselves, they're awesome. I've never seen scaling and colors so spot on. If you're wondering, yes, it's compatible with all major headsets and the scenes can be streamed and downloaded easily.
Download Their App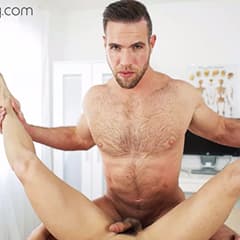 Even though I think these sites have an excellent design and layout that'll make your browsing experience easy, Virtual Real Bangers has gone and upped their game and developed their own app that's so good and effective, you're probably never going to need to return to their site ever again. Their private player that you download for free has every scene in the network and updates whenever a new one is released.
If you're using a headset other than the Oculus Rift or the HTC VIVE, you're out of luck. Sorry, but the app's download page does clearly state that a mobile-friendly version that will serve GearVR, Cardboard & Daydream users will be available sometime soon. So at least there's that to look forward to. Once you download the app and install it, all of you have to do is login with your member ID and password, slip on your either your Oculus or VIVE headset and away you go.
The App Has an Amazingly Advanced Interface
The interface on the app is supereasy to use and all you need is your remote in hand to pick your scene, sort, favorite, pause and much more. And as much as I loved the app, there are a couple of small aspects that I thought could use some tweaking to make it even better. What I'm referring to is that there are no search filters available in the 3D viewing mode. You can sort by most popular or most recent, but there no categories or tags like there is on the site. There's also a problem where if you change the resolution mid-scene, the audio cuts off and doesn't come back unless you exit the scene and start it again.
This is One of the Best Virtual Gay Sites
So there you have it folks, VRB Gay in all of its glory. I have no qualms about calling sites like this one the second generation of adult virtual reality sites. Not only does it have top-notch 3D adult scenes, but the app alone will totally revolutionize the way we surf and consume porn from now on. This network gets mad props from me, that's for sure! Be sure sure to sign up to this site and follow them on Twitter & Instagram for all of their latest developments.