My Full Sin VR Review
Feelin' Sinful?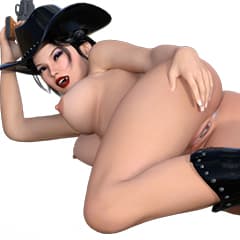 Sin VR is an advanced 3D animated game that you can watch through your headset, in 360° no less (Oculus, VIVE and Cardboard only so far), and interact using 6DoF controllers and even a VStroker fleshlight. They've employed professional voice actors for the female avatars and there's boob-jiggling, hip controls, spanking, multiple sexual positions and photorealistic skins for the avatars. While it isn't a mainstream game company, they're certainly trying their best to produce a polished product.
Now, before you jump straight into the game, I'll let you in on what I think are a few important details. This is basically a BDSM game that consists of fucking and/or tormenting a range of beautiful CGI babes in various dungeon and castle settings. The attention to detail is amazing and so is the graphic resolution. So, if whips and canes, paddles and strappers, floggers and crops aren't your cup of tea then maybe this game isn't for you. But then again, if they are, or if you're curious about them, then giddy-up.
Dominate Your Choice of CGI Babe
The main draw of this game, as is the case with most adult content, is the women. You pick your female avatar of choice, which is not your character, but who you get to fuck, tease and torment. Each avatar has her own unique voice and characteristics. An important factor to look forward to (and I'm sure I'm not the only one who thinks this), is that every girl will make a different sound when she moans. It's priceless. There are busty blondes and redheads, demonic-looking broads, a zombie, a furry (babe with a cat-head), a cowgirl, a sexy librarian, and one that looks indistinguishable from Jessica Rabbit. With each one you can get up to all sorts of kinky hijinks. You can fuck them in a dozen different positions that you choose from a menu, not to mention that when they're in front of you, their avatar will react to your controller movements as well.
Room-Scale Adult VR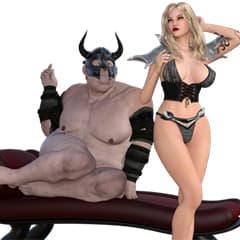 When SinVR was first released it could only be played through the Oculus Rift and HTC VIVE. Some time later, they released a version that was also compatible with the Cardboard. While the Cardboard version isn't compatible with touch controllers like the desktop-class headsets are, you can get your VStroker linked up and watch your CGI dick thrust into these sexy avatars as your thrust in real life.
The Cardboard version obviously will not render graphics on the same level as the Oculus or VIVE, so take that into consideration. Playing with touch controllers is something else, though. Boobs and hips are totally responsive to your hand movements, and so are paddles and other toys. Also, unlike a virtual video, you're not limited to a single position. Sin VR is what's called roomscale VR porn, as in you can actually walk around in your dungeon environment as long as you stay in the room-scale as dictated by the type of headset you're using (Oculus room-scale is a little smaller than the VIVE).
Choppy Facial Expressions
While the graphics are pretty astounding, with small details being attended to, as well as light and shadows, they're having some obvious problems with facial expressions, in that the transition becomes extremely choppy and very unrealistic. It takes away from the whole immersive experience you're supposed to be having. This is actually one of the only points where I feel they need to improve, but I understand that it's also something that's not easy to do. Given enough time, though, I'm sure the designers will fix this glaring problem.
Expect New Avatars Monthly
You have two options when it comes to purchasing this game. The first being the demo version, which is available for $10 and you can play for a whole 7 days. The full version, however, can only be downloaded with a year-long subscription that costs a whopping $180. You would be completely justified in having a shocked reaction to that sticker tag. And you would also be perfectly justified in asking, "Is it worth it?" The only honest answer I can give is: possibly. It all depends on how much you're into this game, so your best bet would be the start with the trial demo and see if you want more. The creators have also promised to release a new female avatar on a monthly basis, plus they're planning on expanding to include the GearVR and Google Daydream. So there'll definitely be more to the game that you can experience in the months to come if you do in fact get the year-long subscription.
A Very Impressive Adult VR Game
I was very impressed with SinVR. The level of complexity in its graphic capabilities, not to mention each avatar's sexy voice and the overall dark and kinky theme, makes the game a delight for the senses. Plus, it works with touch controllers and the VStroker, so this is as immersive an adult experience as you can get. The cost for the full version might be a little steep, but you can play for a year and they've promised to release new content monthly.