Bottom Line
The folks behind Kink.com, one of the best fetish networks online, are finally diving into the world of virtual reality with Kink VR. You'll get to immerse yourself in 5K 180-degree scenes that give you flogging, bondage, foot worship, orgasm denial and much more. All of the major headsets, like the Oculus and Gear VR, are compatible, so you should have no issues immersing yourself in these scenes.
My Full Kink VR Review
Explore All Your Kinks in VR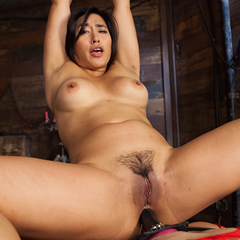 Whenever I'm looking for fetish or BDSM porn, there's one place online that I consider a one-stop shop and that's Kink.com. From fisting to bondage to spanking to cuckolding and more, they've always been one of the best places for kinky porn. I always hoped they'd venture into the world of virtual reality and in November 2018, my prayers were answered in the form of KinkVR.
Dominate, or Submit to Sexy Mistresses
If you've watched videos on Kink.com, there's a good chance you've had thoughts similar to my own: "Man, I wish I was the lucky guy dominating that babe." Well, on KinkVR, you get to be in the Dom role. What makes it even better are the women in the scenes. Penny Pax, Daisy Ducati and Mona Wales (AKA Mistress Mona) are just some of the babes inside. Mona actually makes several appearances and will either participate in dominating another woman with you or will turn the tables and make you her sub.
One of my favorite scenes stars Barbary Rose. The theme is rope bondage and with her feet up in the air, you give her several spanks, use a Hitachi Magic Wand on her, and by the end of it, bring her to an intense moment of subspace as her eyes roll back in her head and she moans loudly as she catches her breath from the incredible orgasm she just had.
Watch 5K Fetish Scenes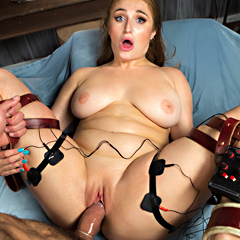 You'll get the chance to play the role of Dom or sub in a collection of 31 videos that are compatible with the Oculus, Vive, PSVR, Gear VR, Daydream and cardboard. You'll truly feel immersed as a Dom or sub thanks to these amazing 5K scenes. We're talking about 180-degree 3D videos with binaural audio, letting you hear every crack of the whip and ass slap perfectly. And even though the collection is a tad small right now, they seem to update regularly, so let's hope they don't ever stop.
The thing about fetish porn is that there's just so much variety. There's flogging, medical play, fisting, Femdom and so much more, and I love how many kink-related categories you have to choose from. The sorting options let you choose from "most viewed," among others, which is a great place to start if you're not sure what to watch first.
Enter This Sexy Virtual Reality Dungeon
I loved how Kink VR let me choose between being dominant or submissive by offering a variety of scenarios. This is high-end fetish porn we're talking about, created by people who live and breathe the lifestyle, so they know what they're doing. And with 5K resolution for most scenes, you're getting the highest quality possible for VR porn right now.